Pink Diamond Events and NoCo WEP's Favorite Wedding Trends for 2016
We are excited to work with Pink Diamond Events and have selected the 2016 Wedding Trends we are most excited about. Take a look and let us know what your favorites are, or even better which ones you will be incorporating into your 2016 nuptials. Make sure to follow Pink Diamond on Pinterest for more ideas!
Metallic Accents
Golds, Bronzes, Sequence, and Bursts of Sparkle aren't going anywhere in 2016. There are countless ways to incorporate metallic hues into your day, from subtle hints featured in your décor, to sequence gowns for your wedding party. We love copper bowties for the gentlemen, champagne bottles dipped in glitter, and everything about this trend.
Skip the Cake
Dessert bars, cupcakes, and sweets galore are trumping the cake this year and a great way to incorporate the personalities of the betrothed. Can't pick one flavor for the cake, not a problem cupcakes are a great way to offer every delicious combination. This also a great place to incorporate another huge trend, the dessert bar; from donuts to ice cream to candy to waffles to insert your favorite treat. They are a great way to show your guests what you love, and allow them to create a perfect treat for their taste buds.
Blushes and Cream
Falling right in line with the Pantone Color of the Year: Rose Quartz, we are going to see blushes and creams play the feature in color schemes this year. From the dress to the flowers to the linens to the invitations, these soft and romantic hues will be a staple. They can be used from start to finish on your big day or to accompany a darker palate.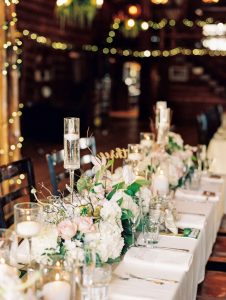 Romantic Moods
Romance should be in the air on every wedding day, and playing up those elements is a great theme we are seeing in 2016. Mood lighting, soft hues, lush whimsical floral arraignments, candles galore, and a little glitz are great ways to set the tone on your day. You can go elegant, chic, luxe, vintage, or unique with romantic moods, the trend really is perfect to spotlight your style.
Pink Diamond Wedding Events is in the business of Love, and their team loves what they do. They are dedicated to ensuring every moment of your day is more magical than you could have dreamed. They take on the heavy lifting, alleviate stress, and focus on the details. So when you say I Do, you aren't thinking about the planning, but immersed in the moment. Pink Diamond offers Full Service Wedding Planning, Partial Panning, Day-Of Coordination, and Event Planning. Contact them today to learn more about their services!