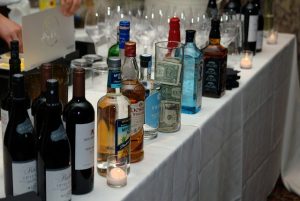 Choosing the best types of beverages and alcohol to serve at your wedding goes a long way in keeping wedding bartending simple for you and the guests. Less really is more when it comes to the number of offerings, and hiring a trusty bartender who can keep an eye on the guests' consumption levels is key to hosting a ceremony that's fun and drama free.
Here are a few inside tips to keep your alcohol costs low, fun levels high and throw a memorable wedding celebration everyone can enjoy.
Stick to wine and beer as your alcohol choices: Wine and beer are easy to serve and are a more cost effective option when catering to a broad range of people and tastes. Liquor stores like WIlbur's will give you a good per case cost for wine and beer and take back any alcohol that's resellable, like six packs or unopened wine bottles. Keep in mind, if you choose to go the box wine route anything you open remains yours – so choose wisely!
In addition, glasses of wine and beer are easier for a bartender to monitor. Hard alcohol affects each person differently and each bartender mixes drinks differently, which creates bit of a wildcard when it comes to keeping an eye on consumption levels. Planning how much hard alcohol, mixers and garnish you will need is also harder to plan and depends on the bartender's style and people's unpredictable tastes.
If you offer a wide selection of wine and beer you can share a taste of local favorites and make sure you also stock old standbys everyone will enjoy.
Cans, kegs or bottles, oh my! Choosing between these options has more to do with the venue than personal preference. Connect with your wedding venue to see what will work best and then make a decision. Are they OK with bottles or do they only take cans? Does the venue allow different types of alcohol indoors vs outdoors?
Keep in mind that kegs offer limited variety and can be volatile. If a keg gets shaken up in transit, guests end up with a lot of extra foam in their beer glass. The tap could also be faulty, which means you are out of drink options for your guests. If you do prefer to use a keg for your wedding, also buy a few cases of cans as backup and return them to the store if they are unused.
Something else to keep in mind – more craft brewers are moving towards canning their popular beers, which makes them more accessible for strict event venues.
Be sure to have non-alcoholic options. Keep in mind not everyone is drinking and that you need to be responsible for the well-being of your guests. Kids, under-age people and designated drivers need savory drink options too! Have bottles of water and soda on hand to distribute or easy to grab-as-you-go. If you are using a bartender who works for the venue, connect with them to see how they prefer to distribute non-alcoholic drinks.
Another great tip is to go to Walmart, Sam's Club or Costco to purchase your mixers, juice soda and more. You will save money and have a wide variety of options.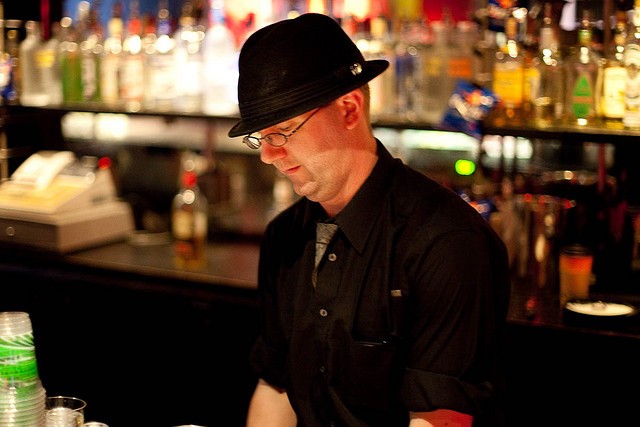 Hire or designate a bartender. Start by talking with the catering company and venue to see if they have a trained bartender who can staff your wedding. Be sure to look for a licensed, insured bartender who has the skills and credentials to manage the liability of serving alcohol.
Another great benefit of using a trained bartender is that you can provide very specific rules about alcohol limits and serving. For example, you can specify a cut off point for all guests or provide special instructions for those few "special" guests that need a bit of help managing their alcohol intake.
If you are hosting an outdoor wedding and/or people are staying overnight at the location of the ceremony, you can ask a friend or someone at the wedding to keep an eye on the bar and serve guests as needed.
These tips are the easiest way to keep wedding bartending simple, costs low and serve drinks that guests will enjoy. If you want a little help planning your alcohol menu for your wedding or next event, schedule a free consultation with Wilbur's for more tips and specific suggestions.
Photo Credit: Paul Collins, Will Scullin