There are many ways to enhance the look and feel your next special event and recreate exactly what you envision for your day. With event planning it's best to start simple. Think about what you can easily add to heighten the experience for your guests and maximize the amount of time you get to enjoy yourself.
Here are five simple things you can incorporate into a wedding, corporate event, backyard barbecue, birthday or graduation party and more to help create an unforgettable day.
Schedule a Consultation: The first step is to schedule an appointment with one of our event consultants. They can provide details on the essentials like tents, decor, lighting and sound equipment. With all the necessary skills to pull everything together, you can leave feeling confident that your event is in great hands. Having one company as a point of contact for all these features also makes it easier to manage event details (or challenges) if they arise.
We also have a showroom you can visit to get a feel for various event items, and you can schedule a full-table mock-up including your specific colors for linens, silverware and other key details. A consultation is the best way for you to make decisions about exactly what you want, and RC Special Events can offer suggestions to guide you towards what works for your tastes and budget.
Schedule a consultation as soon as possible to begin narrowing down what you want and ensure availability of the items on the day of the event.
Rental Linens, Flatware and Glassware: This is one of the best and easiest ways to keep things simple during a special event. Nothing to wash, nothing to haul around. You also have access to various styles of your choice at a fraction of the cost, allowing you to get a high-end look without the price tag.
We have heard time and time again that renting offers an ease of use that is unmatched. This is due, in part, to the convenient way we deliver and manage our products. For example, we package all the dinnerware and glassware ourselves. In addition, we do not require clients to wash the items before returning them – simply to put them back in the racks they come in and we take care of the rest.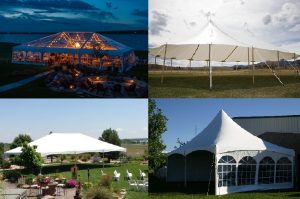 Evening photo, KJ and Rob Photography
Tents: Tents are one of the most important features of an event. When making the decision to use a tent, first take into account the unpredictability of the weather, especially in Colorado. There are a variety of tent sizes, shapes and scales available that serve specific purposes, including shade, weather protection and a little added ambiance.
Tents also allow you to use nature as a prop. Venues do not always allow this luxury. With a tent outdoors, you are able to be creative and style a one-of-a-kind look that fits your exact vision, while still providing comfort and shelter from the elements in a way that looks polished and elegant. You can add special liners, flooring, lighting, chandeliers and other decorative elements as well as french doors, window walls, heating and air conditioning.
RC Special Events has lots of tents to choose from, including Q-peak, Pole, Frame, Clear Top, Tidewater Clearspan structure and more. An event consultant can help you decide which style of tent to use for your event.
Lighting: Decor lighting is a fun, simple accent feature that can transform the look of an event. It can be added to any tent or venue and there are various styles to help you create the look and feel that best matches the occasion, including twinkle lights, chandeliers, bistro lights, grapevine orbs, paper lanterns and more.
Your consultant can discuss lighting with you and ensure the type of lighting you want can work in the tent or venue you've selected. During set-up and delivery a lighting expert will install everything you need onsite to craft your unique vision.
Sound and Power Options: In the planning phase, it's important to think about how you are going to manage the sound and power during the an event, especially in a remote location.
To manage this aspect of event planning, ask yourself some helpful questions:
Do I need to rent a generator or is there a power source on site?
Does the venue have a sound system available or do I need to rent one?
What kind of system is available at the venue and is there supplemental equipment available for the DJ?
Does the DJ require equipment that the venue does not provide?
Will I be managing the music from an iPod and do I have the right type of speakers do that? Do I need equipment to play music from an iPod or laptop that I don't own?
Do I need a training session from a technician for assistance working with rental equipment or help combining it with my personal equipment to ensure compatibility?
If you are in the process of planning a special event and feel overwhelmed, we can help! Tell us about the vision you have in mind and we will do what we do best – manage all the details. Working with an event planner? Connect them with us so we can collaborate to make your vision come true!
Special thanks to KJ and Rob Photography for letting us use a few photos!