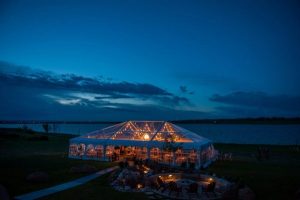 Imagine the backdrop for your perfect wedding day: Your Grandparents' beautiful mountain ranch in Colorado where your dad grew up. You spent your summers there helping in the stables and learning to ride horses. How lucky you are to get married in such a beautiful place? Fast forward to the actual day and that's not exactly how everything is going. Your wedding party is a mess from having to trample through stable mud to make it to the alter, your Mom is upset because she thinks your family— who has flown in from Florida— is freezing in the mountain air, and the candles you had to bring in for extra lighting is about to send one of your centerpiece out in a blaze of glory.
You find yourself thinking, "We should've thought about that". Don't worry! Some of these things can't be avoided in the end, but with the right planning and foresight, some can be tackled head on! Below you will find our list of "5 things to consider when planning an outdoor wedding."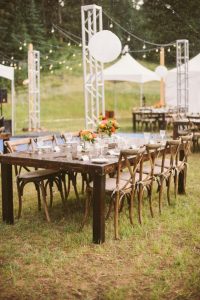 Choose the Right Spot. When making the decision on where to host the occasion, remember to consider the negatives and additional needs as well as all the positive aesthetics and attributes. Can guests get there easily? What's nearby? What's it like that time of year? Will my guests be comfortable? What will the additional needs (like the ones listed in this blog!) be? Choose a location that is in line with your vision for the day as well a convenience your guests will appreciate. RC Special Events offers complimentary site visits with our event and tent experts, we're happy to walk the event site with you and make sure your vision becomes reality!
You May Need a Permit. Some areas of Northern Colorado will require different permits and or permission to wed on public or private property. For instance, if you plan to have a tented location in Larimer County, tents of a certain size will require a fire permit as well as a visit from the Fire Marshall. Even if you plan to wed on private property, request to put up a tent will require permission from the utility services of that city. RCSE applies for all necessary permits on behalf of our clients, make sure to research what permits are required to ensure you're well prepared to tie the knot!
Lighting Needs. When hosting your wedding outside, even during the day, chances are you'll need lighting. While some strung bistro lighting on trees or hung above the dance floor will set the mood for your first dance, they might not provide sufficient light for your guests to enjoy dinner. RC Special Events offers a large variety of functional, décor and access lighting to brighten up your event.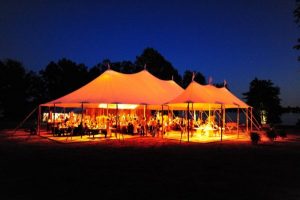 *Said lighting may also need it's own power source. Consider your options for a generator here!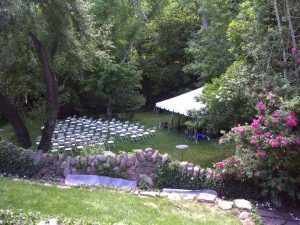 Restroom needs. Yes Rustic Mountain weddings in the lush open space of Rocky Mountain National Park or sandy beach front weddings on Horsetooth reservoir are beautiful wonderful settings for this magical day. However, Uncle Gerald needs to be within 25 feet of a working restroom at all times, your cousin Jenny's triplets need a diaper change at a rate of 1 per 15 mins and there's no way your maid of honor Heather is getting out of those spanx behind a tree. We all go to the restroom, make sure your guests can do it almost as seamlessly as they would at home. RCSE can help to outsource your event sanitation from a portable restroom trailer to full bath and shower luxury restrooms.
Heating and Cooling. Whether your reception will be in a barn, warehouse, tent or open air, RC Special Events has the products you need to ensure you and your guests are comfortable. Tent heaters, patio heaters, gas fire pits, misting fans, ceiling fans and air conditioning are all available options.
*Make sure to discuss heaters with your venue and vendor. Heaters are specifically designed for indoor or outdoor use, so don't try and put that old patio heater in your tent!
At the end of the day what really matters is that you've made it and now you get to enjoy time with the love of your life! Aunt Gertrude may still complain about the fish, but the tables will be set, everyone will be in place and you'll be surrounded by love. Vladimir Nabokov once said "Do not be angry with the rain; it simply does not know how to fall upwards." We all know that to be true, but there is something to be said for packing an umbrella in case of a rainy day.
Happy Planning!