Every bride and groom wants wedding photos that capture the range of emotions you experience from the heartfelt connections, to funny surprise moments, to the feeling of excitement right before everyone sees the bride in her dress. These images tell the story of your special day, which is why it's important to find ways to maximize the quality of the time you spend in front of the camera.
There are a few simple tricks-of-the-trade professional photographers use to enhance the quality of wedding photos and create meaningful images that are also stunning.
Here are 7 simple tips for creating better wedding photos:
Choose photo locations with lots of light. Window light is a very simple (and free) photography tool. It instantly adds depth and dimension to photographs and helps people or any items in the photo look as naturally illuminated as possible. After all, a photograph is technically a record of light! For evening weddings or indoor photos, candlelight, reception uplighting and chandeliers can all help soften the overall look of the wedding photos, giving them almost a dream-like quality. No matter what time of day your wedding is taking place, adding more light will always enhance the quality of the images.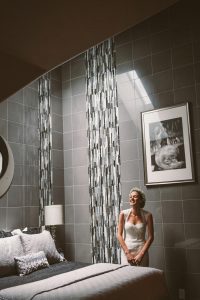 Be mindful of your wedding day prep space and keep it clean. Prep time on your wedding day can get pretty wild, especially when you need to accommodate hair, make-up and wardrobe for several people all in one place. The challenge is, photographers need to take photos during wedding prep as part of documenting your special day – which means you need to be extra mindful of the physical chaos in the room. It's best to have a clean room for the bride to get dressed or have the bridesmaids clear their belongings. There's nothing like the moment when a bride puts on her dress for the first time, and you want to make sure those photo don't feature trash and personal items from the whole bridal party in the background!
Hire a professional makeup artist. Even if you love the natural look, a makeup artist truly understands how your makeup will look on camera and in different lighting scenarios. Many makeup artists specialize in the natural look, so it can help to research and connect with a few and see what they can offer. A professional is also good to have on hand to provide a quick make-up refresh before the ceremony – especially if it rains or the ceremony is on a really hot day. If you choose not to hire a professional, try stepping 10 feet away from a mirror when you check your makeup. This will give you a good idea of how the makeup will look on camera and you can adjust as needed.
Bring along a copy of the wedding announcement, invites, save-the-date cards and program. You go through the trouble of carefully selecting a design for the invites and crafting a theme for the wedding, so it's nice to have a photo of it all! Photographing all these details on the day of the wedding enables you to create keepsakes and ensures you have a pristine image on hand for your wedding album – even if you don't have a real copy. These are all the special wedding elements that a photographer may not get in the mail prior to the wedding, but they are a very important part of telling your whole story through wedding photos.
Schedule engagement photos with your wedding photographer of choice beforehand. A wedding day is filled with nervous energy already, so why add more? Choosing a photographer that can shoot your engagement and wedding photos gives you the opportunity to get to know them well and will help you feel calmer and more confident in front of the camera the day of the wedding. Wedding photos document very intimate moments – so why walk into a situation with no prior connection to the photographer? You want to feel like you are friends before stepping in front of the camera on a day of such special meaning to you.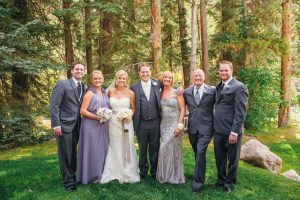 Prepare a formal wedding shot list for family and friends in advance with your photographer. You can't be everywhere at once on your wedding day, so it's very helpful to prepare a shot list ahead of time with your photographer. They can collaborate with you to suggest shot styles in order to make photo sessions simple and fast so you can focus and relax, knowing these important decisions have already been made.
Research back-up photo location options. Weather is unpredictable, so it can help to plan a few additional locations to mitigate any just-in-case scenarios. For example, have a few ideas of indoor spots that are already set-up and cleared with the wedding venue, and be sure to bring an umbrella, ponchos or other weather essentials just in case. Also keep in mind that it's important to remain flexible. You may be committed to outdoor photos, but are you OK with getting wet and the challenges that poses for hair, make-up and all of the expensive clothes that will be subject to the elements?
Knowing exactly what you want for your wedding photos is a process, and we are here to help. Please contact KJ and Rob Photographers if you have any questions on ways to create the exact look and feel to capture your special day.