Are you considering making your own wedding invitations?  There are many affordable, value oriented wedding invitation options that will make your wedding planning easier.  I know every bride has a budget for her special day.  I strive to make sure there are wedding invitations for every brides budget.  I offer many affordable wedding invitations options for your special day.  All of the options below range from $136 to $229 for 100 invitations and additional wedding stationery pieces.
Digital Printing
Digital printing helps to dramatically bring the price of your wedding invitations down.  The following invitations are printed on the front and the back.  This allows you to give your  guests wedding details on the front of the invitation and on the reverse side, all of the wedding details such as printed directions, accommodations, and additional wedding details such as a website.
In this collection you receive the invitation printed on the front and the back, and a printed response card with blank envelope. The cost is $159.00 for 100 invitations.  This product is designed by Carlson Craft.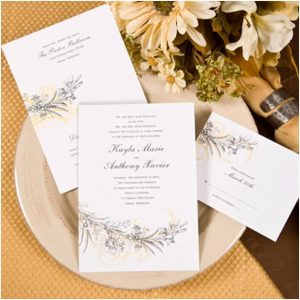 Seal n Send Invitations
Everything you need in one invitation.  These clever wedding invitations are a self mailer that you  fold up and stick in the mail.  There is room for your wedding invitation wording on the top, reception information in the middle and response card information on the bottom.   The response card is a post card so mailing the response card back to you will be less expensive. It even has a printed return address on the back flap and the front of the response card.  Everything is ready to go.  100 invitations are $136.00.  That's $1.36 per invitation and includes all of your wedding details.  This product is designed by Carlson Craft.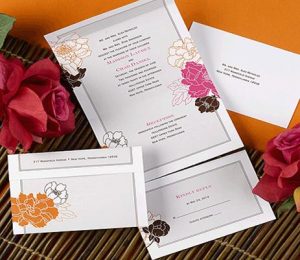 Packages
Bundled packages are another option.  The following package includes: blank outer envelope, response cards, thank you notes, luncheon or beverage napkins, your choice of three select accessories.  All of this starts at $229 for a quantity of 100. This product is designed by Carlson Craft.