First off if you are getting beer for your wedding reception talk to the event planner at your liquor store. They know the right amounts of kegs, bottles, or cans of beer that you will need for your wedding reception.
One thing I hear all the time is "Our friends drink A LOT!!" this may be the case however do you really want them doing this at your wedding? If so cool tap the kegs and let the beer flow. If not then perhaps have a bartender to keep an eye on things and how much people are drinking.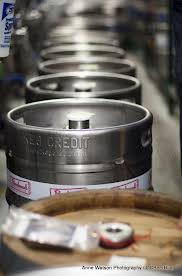 In Northern Colorado we are quiet spoiled with a plethora of beer choices. I would recommend getting what you like. If you love Budweiser then get that, if you love micro brews like myself I would recommend getting a couple different ones and also having a domestic option as well.
As for what type of beer container you choose can be determined by your venue… Some areas only allow cans of beer. This lowers the risk of broken glass bottles in natural areas. Some do not allow kegs, due to a lack of space to keep them cold. Others only allow a certain size keg, be sure to check with your venue.
Most places are pretty flexible so at that point go with what you prefer.