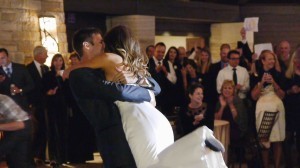 A wedding video is a fantastic way to tell the story of one of the most important events of your life. Each part of the day is like a chapter in a book, and each chapter builds on the previous one to paint a complete picture of your wedding.
The wedding day goes by in a flash. That means a wedding video is the one thing you can count on to pull together all the special moments of your day.
To make sure you don't miss all the one-of-a-kind moments, think beyond the ceremony. The ceremony is important, but it's just one part of the whole wedding experience. There are many other moments that are worth remembering for a lifetime:
Rehearsal Dinner: This informal celebration offers candid toasts, gift exchanges and moments between friends and family that are funny and heartfelt. These are also some of the last few moments before a couple says "I do", and the rehearsal and dinner creates an opportunity to capture their genuine, growing excitement before the big day.
Pre-ceremony Preparation: Footage of hair and makeup time for the bride and her bridal party offer beautiful, rare, tender moments with her closest family and friends. It is a time of excitement and anticipation when genuine emotional moments can happen. Reactions from the ladies as the bride puts on her wedding dress for the ceremony are also a priceless, one-time experience that's great to have on a wedding video.
Cocktail Hour: Cocktail hour is an ideal time to capture footage of all the guests having a good time relaxing, chatting and connecting before your big entrance. They are excited and happy to be there, which makes for lively, engaging material to add to the video.
Photo Session: Filming a photo session, especially a unique one, can give you the "behind the scenes" feel, as well as the goofy, candid exchanges and silly poses that are fun to watch again later.
Toasts: These are some of the most emotional moments of a whole wedding. Honored guests share special stories about the couple and what they mean to their family and friends, and the spontaneous reactions of the bride and groom are always fun to include on the wedding video.
Open Dancing: People come to a wedding to celebrate with you! During open dancing, guests will usually forget about the camera and this is a great time to capture all the people who were there on your big day.
Although these are all beautiful moments, a wedding is not just a series of events. It's a time when you celebrate taking the next step in life with the people you love the most. Having a wedding video to capture the day helps pull all these little moments together into a full story you can experience again.
Please enjoy this Colorado wedding video. If you can watch it and get a sense for who the couple is, what their wedding day was like, and the emotions they experienced, then imagine how much you'll enjoy your own wedding film!
http://vimeo.com/77197833