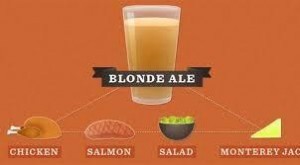 Most people only think of pairing their food with wine, but did you know that beer can be paired as well?
Here in Northern Colorado or the "Napa County of Beer" as we like to call it know that there are many options when it comes to eating food and drinking beer.
Where once beer was only considered for BBQ's and pool parties now there are five course meals that go hand in hand with finely crafted beers.
No matter what type of food you are having we can find a beer for you!!!
Some of my personal favorite combinations are:
If you are having spicy dishes like Asian or Mexican dishes then India Pale Ales and other beers with nice hop characters would go nicely.
If you are having robust smoked foods Porters or Abby Style beers are a good direction to head in.
Often lighter foods are served especially during the summer months. Chicken, Salmon, and Pasta salads go nicely with Blonde Ales or British Style Bitters.
And don't forget about dessert!!! Besides the obvious Chocolate beers for dessert, Pale Ales, and India Pale Ales go nicely with super sweet dishes like carrot cake, or crème brule.
These are just some of the many options out there for food pairings with beer. If you have any questions talk to your Northern Colorado Wedding and Events Professional referred liquor store and they can help you with all your beer paring needs.