There's no denying the fact that planning a wedding involves a lot of things. You'll probably begin with the big ones: the venue, the photographer, the caterer, etc. But one item that is often left until the very end is finding the tuxedo or wedding suit that's right for your groom. What will he wear? Does he have something in the closet already or will he be renting? Or buying?
All you need to remember going into this is that your groom's wedding suit is going to be something very special. The following tips are some of the most useful tidbits of advice that I can provide to give you some practical guidance. So, read this article carefully, share it with your fiance, and you'll be well on your way to having a sharply dressed groom waiting for you down the aisle.
Formal or casual?
Black tie or ranch casual? Beach or traditional ballroom? These are some of the venue questions that you'll be asking yourself. The level of formality of your venue will likely shape that of your wedding day attire. What this means for your fiance is that he will need to consider the wedding's level of formality when choosing what he will wear.
As you may expect, a very formal wedding will likely equate to a black tie event, but what about a very casual wedding? Or someplace between the two extremes?
Casual
For arguments sake, let's consider a beach wedding. Your groom will need a breathable fabric to keep him comfortable, something like a linen or a cotton. And his shoes will probably be relatively casual as well — after all, the two of you may be standing in the sand! Also, I'd recommend opting for a tan or some other light colored fabric to refer to the beach theme.
Semi-formal
But what if you're someplace between a formal, black tie event, and the beach? You're probably not going to be wearing a tuxedo. And maybe you're considering a venue outside. It could be a grassy open space — a ranch, a chic barn, etc. In this instance, something that I see quite often is a groom choosing a 3-piece wedding suit. Now this may seem quite formal, but not if he chooses a softer shade in something like a gray tone or navy. And steer clear of pin stripes, as they belong in the office.
Formal
This is the look that you're probably most familiar with. It's what you see at a lot of weddings and has become a standard. On one end of the spectrum, you have a full tuxedo with a black bow tie, and on the other end, a dark suit.
A tuxedo is probably self explanatory, but what about the dark suit? A dark wedding suit will be pretty special. Go for one with peaked lapels, which will give the jacket a formal and confident look.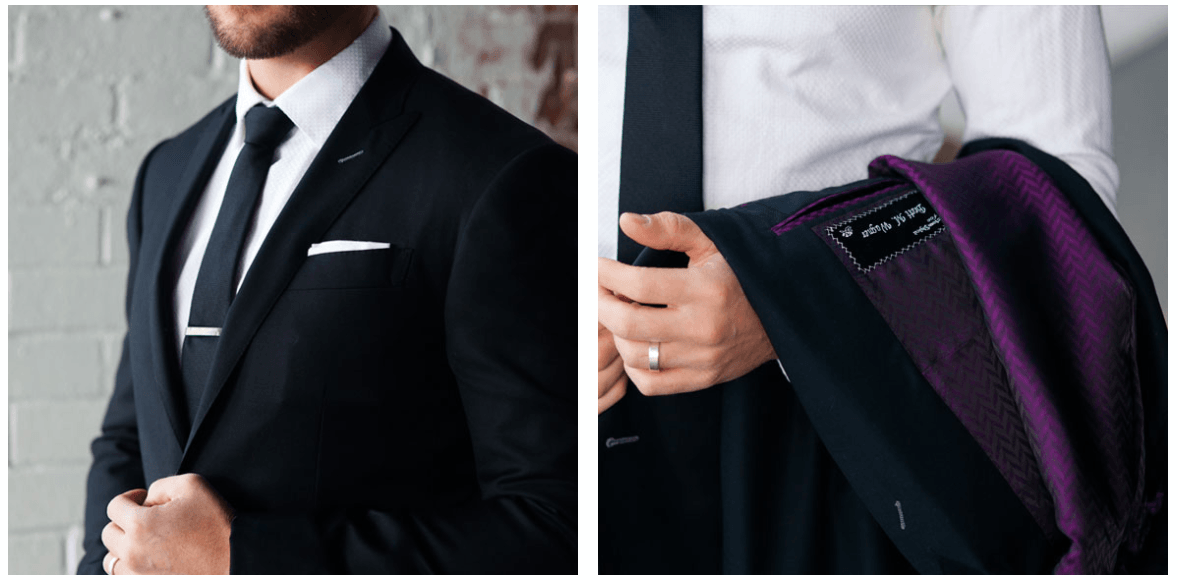 Fit is the most important thing
It doesn't matter whether your groom wears a suit, tuxedo, vest, or even a t-shirt, the fit must be right. Sloppy clothes — baggy shirts, short sleeves, pants that are too long, etc — don't just look bad, they obscure the man wearing them! You want people to see your groom on your wedding day, not him in a suit that doesn't fit well. And when clothes appear a bit sloppy looking, it can be very noticeable and distracting both in person, and in the photos afterwards.
So, what can you do? When it comes to wedding suits and tuxedos, it's best to consult with an expert. Regardless of where you end up shopping, make sure you can find someone who can help your groom get an amazing fit. And if you're reusing something that's already in the closet, the same advice applies. Sometimes some careful tailoring can update an older suit, but always be honest with yourself — if it just doesn't look right, then it may be time to go shopping.
Grooms attire can be a smart investment
Almost all couples have to stick to a wedding budget, but one area that I can justify spending a little more in is the clothing, be it your wedding or your groom's suit. In the years after your wedding, you probably won't remember much about the food you served your guests or the table settings, but you will remember what you wore because you'll have so many wonderful photos.
Personally, I think that a very special day calls for special clothing. This doesn't mean that your groom needs to wear a ridiculously expensive suit, but spending a bit more than you would on a day-to-day basis is part of what makes your wedding special for you as well as for your future husband.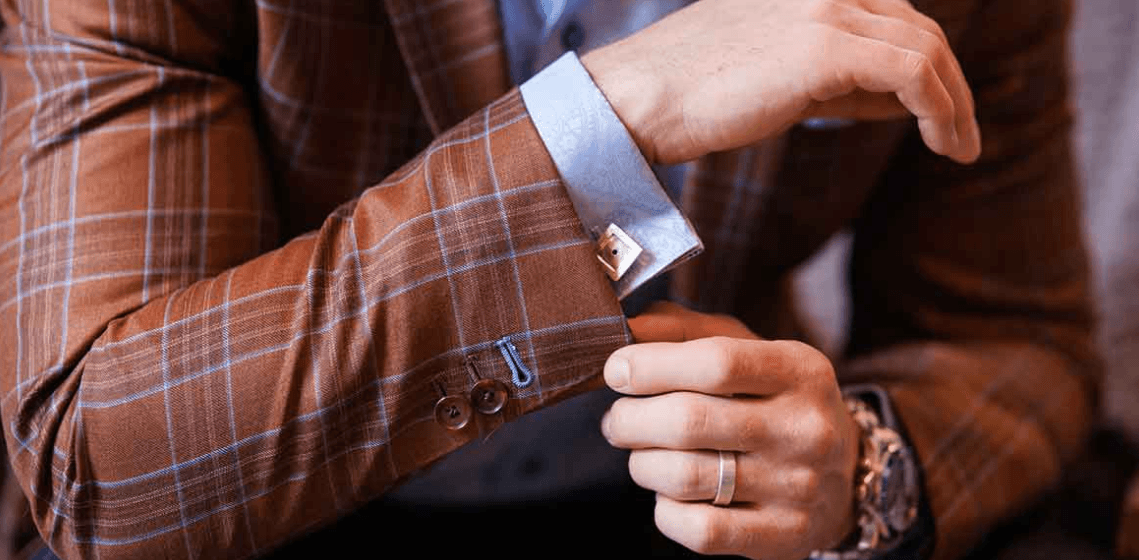 Wrap up: finding the right wedding suit
I hope this post gets you thinking a bit about your groom's outfit on the big day. Tailoring of store-bought suits can take upwards of a week, whereas custom suiting can take up to 6 weeks. So, the sooner you start thinking about menswear the better. Good luck, and don't hesitate to send your questions our way!
And now that you have the suit or tuxedo figured out, here's a helpful article on how to choose your venue.