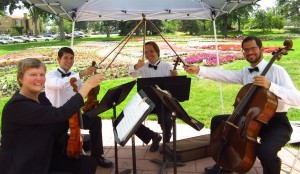 When you are planning your wedding and decide to hire live musicians for your ceremony, it's important to know what they need to make your wedding music amazing.
Here are a handful of tips that will make your wedding ceremony music go smoothly. And, if you follow these tips, you won't have to worry about your ceremony music at all because your musicians will be well-prepared and happy.
Communicate your ceremony music preferences and schedule ahead of time. The sooner that the musicians know the schedule for the ceremony, the better. This is especially important if you have any special requests. It is a common practice for wedding musicians to post a list of their wedding music repertoire on their website. This is a good starting place. Some will also post recommendations of their common wedding ceremony music. If your favorite tunes aren't on the list, don't dismay. Just make sure you request your tunes at least 6 weeks in advance so that the musicians have plenty of time to prepare.
Shade for their Instruments. If you have an outdoors wedding planned, make sure that you provide your musicians with shade. Professional musicians often have instruments valued in the thousands of dollars. These instruments can be damaged by the sun. The heat of the sun can also make their musical instruments go out of tune. Trust me, you want your musicians playing music in tune, not repeatedly stopping during your ceremony to retune.
Chairs without arms. This tip is especially important for string players. When we are playing our violins, violas, and cellos we need space to move our arms. If the chairs have arms on them, then we bang our elbows on the arms. It's not a pretty sight.
Know the impact that the music will have on your wedding ceremony. If you hire quality professional musicians, they will take care of you. You won't have to worry about unexpected delays, because they will have extra tunes ready to go. They have played enough weddings to expect the unexpected. You will pay more for professional musicians than amateurs, and you will get your money's worth in peace of mind on the day of your wedding, and in the ambience that good music creates.