These days there are several reasons why you may not want gifts at your wedding.  Some couples have been living together for years before their wedding and have accumulated all of the items they need.  Some couples are "encore" couples and bring with them all the furnishings of their previous homes.  And others still have ideas for weddings that are more philanthropic in nature and chose to donate to a charity close to their hearts instead of collecting material goods.
Whatever your reasons for not wanting gifts at your wedding, etiquette states that you can NOT tell people that on the invitations.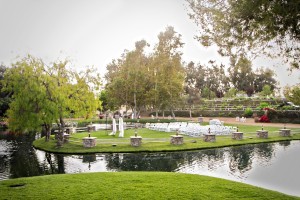 To state that there should be no gifts, places the emphasis on gifts, exactly where you don't want it.  It indicates to people that you did expect them, hence you knew to ask to not receive them.  Instead, another idea for your wedding is to tell people throughout the engagement personally.  Let them know that them being there to celebrate your new marriage is gift enough and how honored you are that they will be attending.  Also enlist your bridal party and family members to spread the word.  If you have a wedding website where all of your wedding ideas are, directing people to that is an appropriate place to put the information as well.  That way everyone knows what you are hoping for and what your ideas for the wedding look like.
You will still have people, no matter what your idea is, who will give you gifts.  There's nothing you can do about that.  Just be gracious and thankful.  They are giving you something because they truly want to.  It's a gift from the heart, and those are the best kind of gifts.  If they include a gift receipt you can just return it later if you really can't put anything else in your house.
If you read the opening paragraph, and thought "Oh, what a clever wedding idea! I want to give to a charity instead of getting gifts" but the thought of asking people for money is uncomfortable to you…. here is your solution.
One idea for the wedding is to skip the favors (most people either don't need the extra sweet treat AND wedding cake or won't really plant those wildflowers) so have a sign that tells people that you have donated to your favorite charity in their names.  You can leave the donation amount vague, others don't need to know how much you donated and they will feel like they did something good since it was donated in their names.  It's a great compromise to give to your cause and not make your guests feel like they must fork over more cash.  Small place card signs on each table, or a framed announcement on an easel or guestbook table, maybe the bar… would all be an acceptable way to let them know of their generosity.  Take the projected favor budget (usually higher than you anticipated) and donate that, or less to help your savings.