Assigned seating is a question that often comes up when planning a wedding. Do you want to assign your guests to a particular seat at a table, just assign them to a specific table, or just have open seating. As a wedding planner, I have seen the outcomes of all these situations and I'm here to give you the good, the bad and the ugly about assigned seating.
Assigned Seating
This is a great option if you are having a plated meal and you want to let the caterer know where each meal will be served to. If you do assigned seating, you will need both an escort card for the guests in the front of the room (so they know what table to go to and are not aimlessly walking around the room looking for their name) as well as individual place cards at each setting.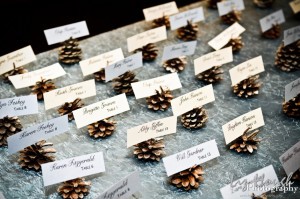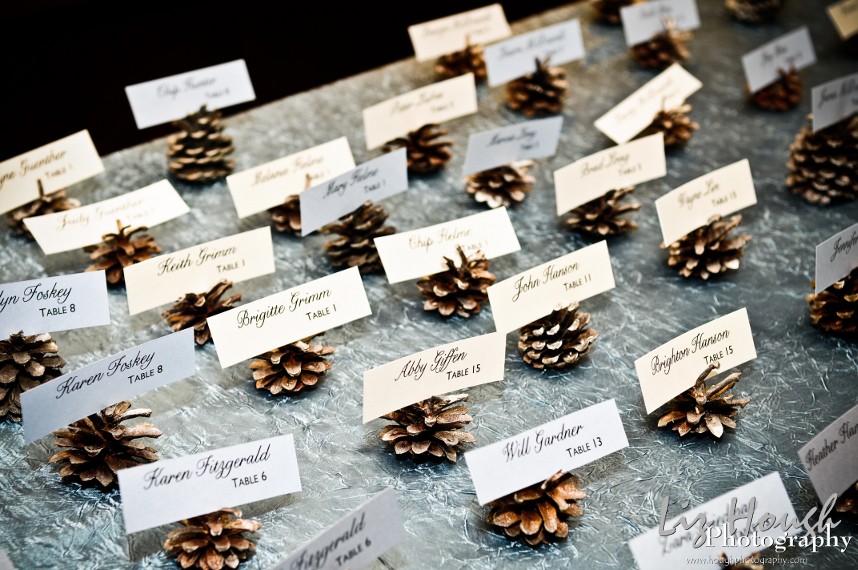 http://www.moesters.com/beautiful-pine-cone-decoration-ideas/pine-cone-escort-cards-for-wedding-design/
Assigned Tables
Assigned Tables are a step down from assigned seating, but still shows you as the host are putting in the effort to accommodate your guests a seat them next to the most appropriate people. You will only need escort cards with this option to be place at a table in the front of the room. Guests will be allowed to choose their own seat at the table. This is a great option to eliminate the stress from assigning each guest to a seat, but still focusing on your guests comfort.
seating chart
http://letteringartstudio.wordpress.com/tag/best-selling-fonts/
Open Seating
Open seating is when you allow your guests to sit wherever they want (maybe you still have a few reserved tables for family), but in general people sit where they please. You will not need place cards or escort cards for this option.
While it open seating sounds like an easy way to go, I always recommend against this option! There are a few reasons for this. When your guests arrive they will likely want to put their stuff (coats, purses, etc.) down. If they do not have a specific seat they are given, then will go to that seat and stay there. So the mingling during cocktail hour that you were hoping to happen will be replaced by everyone sitting at their tables because they are afraid they will lose their spot! Also, when most people sit, they will leave an empty chair between themselves and another guests who they do not know. Therefore you will have many tables will less people then capacity. To make up for this you will have to have more tables than expected, which increases the number of centerpieces, table cloths, place settings, etc, that you have to order. Finally, because the tables will have 1 open seat here and there, many groups will be forced to split up (your college best friend ends up by your grandma while her boyfriend ends up sitting by your 7 year old cousin), or worse there will be a few people singled out and left to sit at an empty table all by themselves. And no one wants that to happen!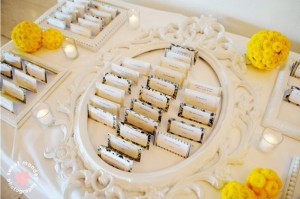 http://www.bellethemagazine.com/2012/01/10-creative-ways-to-add-frames-to-your.html
So, even though assigning your guests to a specific table may be more work for you. In the end your guests will be thankful that you took the time to care about their comfort at your wedding and sat them at the tables which are most appropriate for them!