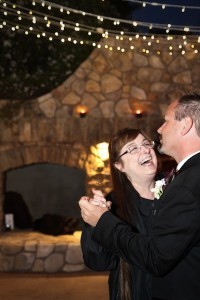 We all know how many songs there are that express the love between a father and a daughter.  The list is endless, and new songs seem to pop up all the time.  Finding the perfect mother/son song can be slightly more challenging.  You want a mother and son song that describes your love and gratitude for the woman who raised you.  Remember, this may be one of the traditions your mother is looking forward too the most.  It is important that you do not skip this tradition.  Make sure you are communicating with her and if she wants to, let her suggest some song options for the dance.
However some mothers are not as excited about being the only couple on the dance floor.
One way around being the only couple out on the hardwood is to choose a gender neutral song.  This allows both you and your mother and your new bride and her father to dance at once.  It also cuts down on the amount of time your guests are waiting until the dance floor opens.
Here are a list of some of our favorite mother/song songs that may be suitable songs for your wedding dance.  (Keep an eye out for Cheek to Cheek Choreography's next post on December 5th for suggestions on gender nuetral songs in case your mother doesn't want to be in the spotlight alone.)
"I Turn To You", Christina Aquilera
"I Knew I Loved You Before I Met You", Savage Garden
"You Are Loved ", Josh Goban
"If I Could" Barbra Streisand
"Ain't No Mountain High Enough", Marvin Gaye and Tammi Terrell
"The Perfect Fan", Boyz to Men
"I Will Always Love You", Whitney Houston
"Shop Around", Smokey Robinson
"A Song For Mama", Boyz II Men
"I Wish You Love", Natalie Cole
"Wind Beneath my Wings", Bette Midler
"Bridegroom", Amy Grant
"You Raise Me Up", Josh Groban
"A Mother's Song", T Carter Music
"Mother, I", Cana Music
"Through the Years", Kenny Rogers
"Shero", Bellamy Brothers
"My Wish", Rascal Flatts
"Angels", Robbie Williams
"All Those Years Ago", George Harrison
"Sweet Baby Mine", Isla Grant
"Your Song", Garth Brooks
"In My Life", The Beatles
"Cosmic Love", DF Michael
"Heart to Heart", Toby Keith
No matter what song you settle on, the main thing to remember is that in all the hustle and bustle of your wedding day, enjoy the few precious moments of uninterrupted time with your mother.  It's a big day for her too.