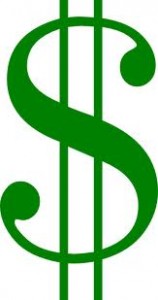 Creating a wedding budget can often be a very daunting task.  Many brides have no idea how to set a wedding budget when they don't even know how much things cost!  Setting a realistic budget is one of the most important first steps to planning a successful wedding.  The key is to make sure your budget is REALISTIC of what items cost, not just what you want to spend.  If your budget is just a number you pulled out of a hat, then chances are it is not realistic of what items really cost and you run a high risk of going over that budget.  Here are some great tips to set a realistic wedding budget;
1-      First know the average wedding cost $28,000.  Every wedding is different depending on where you live, but you can expect that you wedding will be similar and expect to be close to the national average wedding budget.
2-      Research vendor costs in your area.  Send some emails to a few vendors to get an idea of their price range.  The key is to let the vendors know up front that you are in the beginning stages of setting a budget and just inquiring about the price range for their services. While many vendors' prices will vary, this range will give you an idea on what those typical services will cost. Some vendors may be unwilling to give out this information without meeting you first.  If that happens, let them know you may be interested in meeting them later, but right now are just setting your budget and move on to another vendor in that category. 
3-      Understand there are fixed cost in any wedding.  A fixed cost is a service that will not vary depending on the number of guest you invite.  These typically cost are photography, DJ, Videographer and Wedding Planner.  So even with a small wedding, these costs will be the same.
4-      Set up a meeting with a local wedding planner.  Wedding planners will know what they typically overall per person wedding costs are for a wedding in your area.  This overall price will give you a good idea of what you can expect to pay for your wedding as well. 
5-      Consult with a wedding planner to create your budget.  Many wedding planners have an a la carte menu which can include wedding budget creation and vendor recommendation.  You will have to pay a fee for this service, but in the long run it will help you stay on track and keep you from spending thousands over your budget.
Once you have all the above information, create a spreadsheet with different rows labeling the different vendor categories and 2 columns of your estimated cost and the actual cost.  Make sure and update this budget during the whole wedding planning process to make sure you stay on track!
Now you are armed with the tools necessary to stay within budget and ask give accurate information to any financial contributors of the wedding.  This will help negate potential budget conflicts in the future. 
Next post, we will discuss tips to help reduce your budget and other wedding costs!