Are you looking for an innovative way to seat your guests at your event? We have the perfect option for you!
In 2011 RC Special Events introduced an exclusive line of Napa tables designed and manufactured only for RC Special Events. This one of a kind, custom-built table line can bring new life to any event.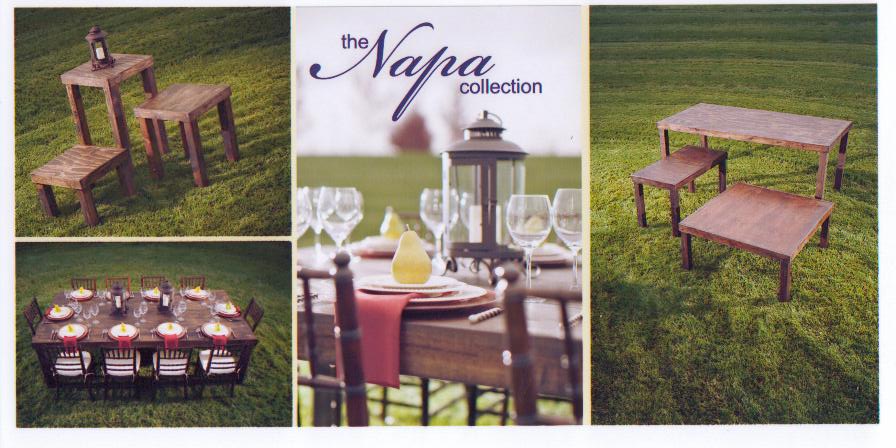 The tables are naturally finished and feature a dark walnut stain, which allows for a table that does not require a linen. And you know what that means? You only have to decide on a table runner and napkin color!
Another bonus is that the line is completely customizable for your event. We offer a variety of tabletop sizes and leg heights. So, if you're looking for cabaret tables or an 8ft banquet table, we've got you covered. This year, we even added Napa benches to tie the whole line together.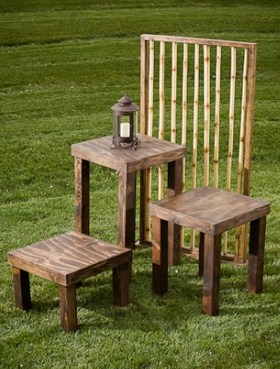 The natural and rustic look of the Napas has allowed the line to be dubbed one of the hottest trends of 2013. If you're looking for a total outdoor rustic look, we have found that the Napas always pair well with natural hues or earth toned linens. So far this year, the outdoor rustic appeal of the Napas has been a focal point for many clients planning upcoming summer weddings. You can definitely see how you can use linens and dinnerware to glam up the look.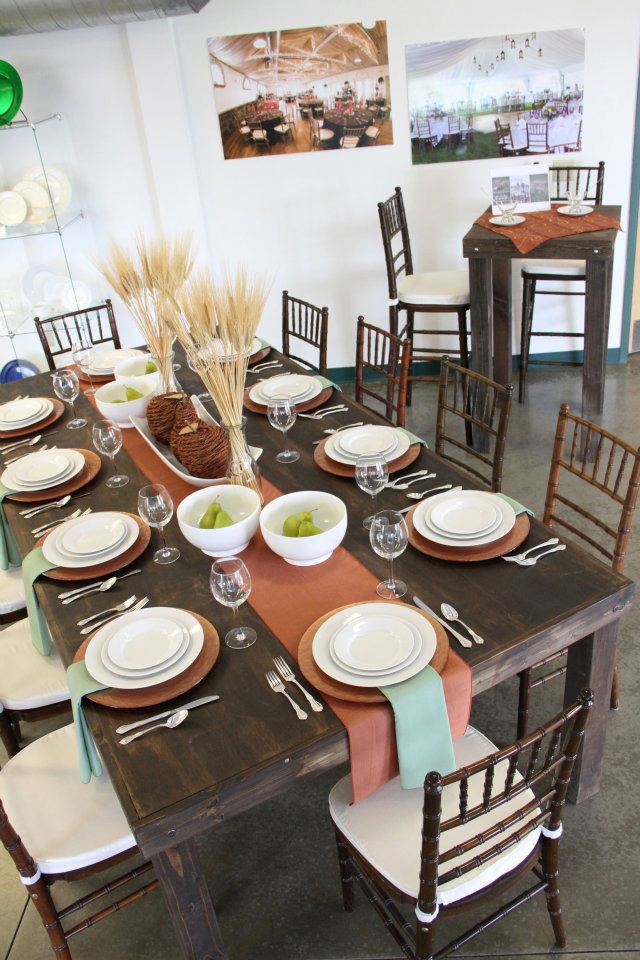 This example used copper chargers to complement the copper nova runner and celadon napkins. This place setting would go well with both an outdoor wedding and an indoor one. The other items on the table are our 9 inch footed white bowls and our canoe platter. These let you get creative with what you can put on the table. Check out the carafes with the wheat accents!
Another earth tone palette we have used is a chocolate napkin with black hills gold runners and copper chargers.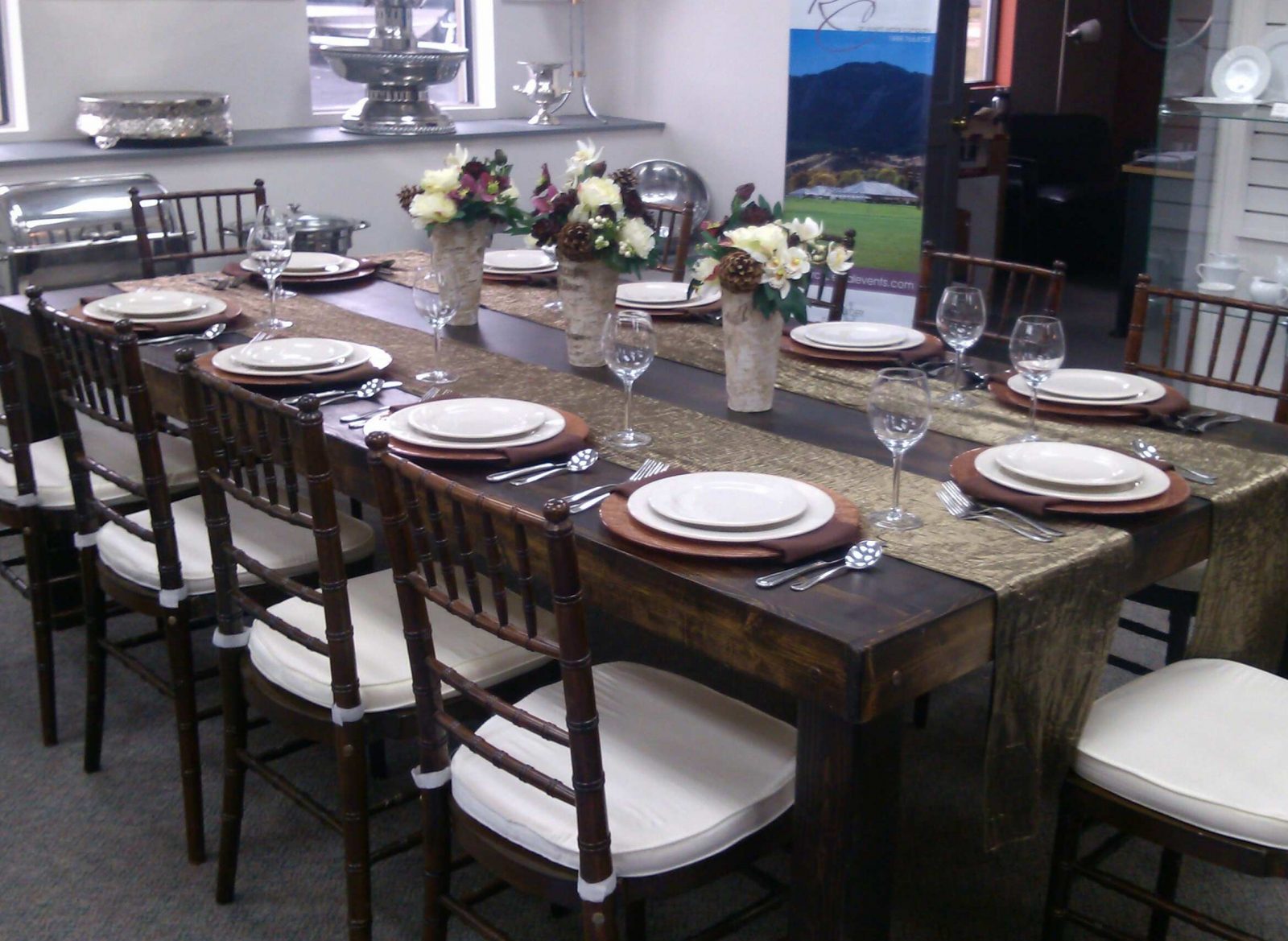 In an almost complete one-eighty, the Napas can turn black-tie with a simple black and white theme. For this table, we opted for white napkins and black chargers. Even though natural hues are popular, don't be afraid to experiment with your own color scheme ideas!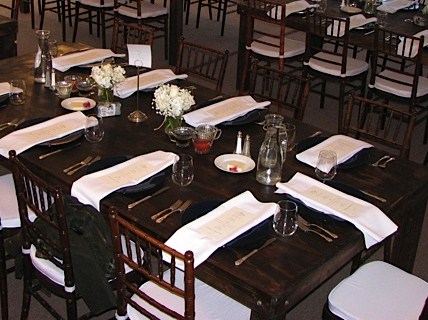 If you aren't quite sure what dinnerware, flatware, etc would look best with the tables, don't worry we can help! Here are some examples we found while browsing through Pinterest.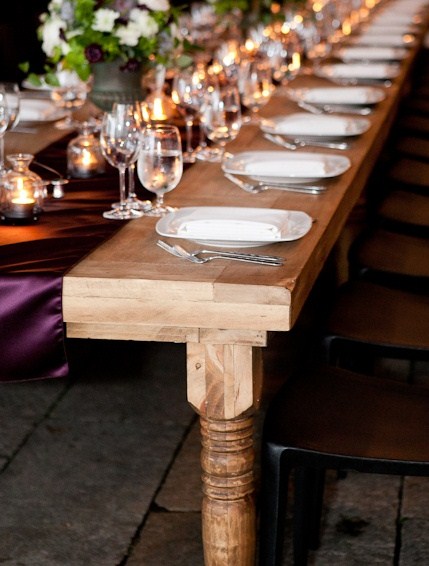 To get this look, use our square dinner plates, regina wine glasses and water goblets for glassware. Then tie the whole look together with our eggplant runners or try something from our iridescent crush line.
If this look is more your style, you can use our burlap runners, with our royal white or silver rim dinnerware. Another style that would pair well is our Venice ivory. For glassware, use our 12 oz red wine glasses, regina champagne flutes, and water goblets.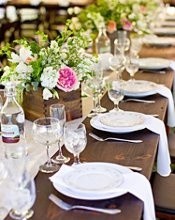 The possibilities for table runners that pair well are endless. Check out this example with a light blue one!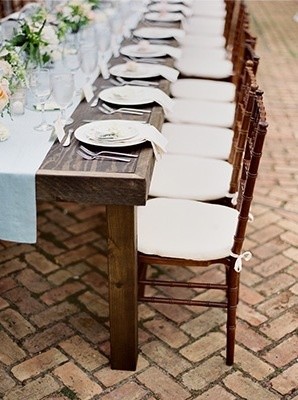 To get more linen inspiration for your event, check out our color selection on our website.
A lot of times, a follow-up question from clients renting Napa tables is which style of chair looks best. We recommend our Fruitwood Chiavari chairs because they have chair pads for comfortable guest seating and closely match the tables in color.
Check out this outdoor Napas paired with the Fruitwood Chiavari chairs. You can see why these are always a great fit for any event!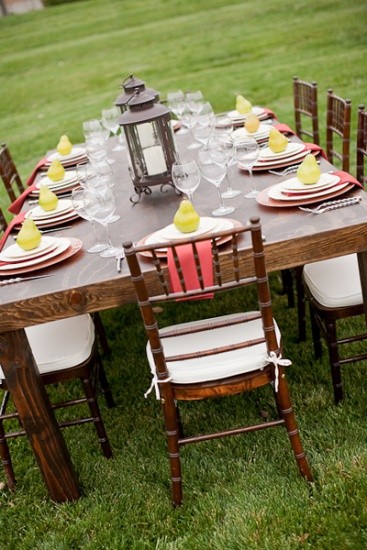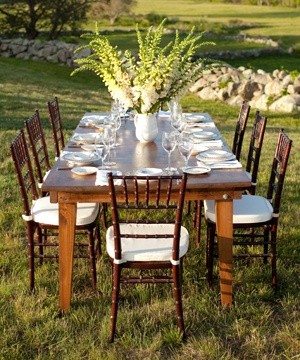 Don't miss out; contact RC Special Events today to rent these elite tables for your special event! You can even stop by the RC Special Events showroom to get some inspiration.