He popped the question and you said "YES"
Now, you start the planning! Your venue, the perfect theme and wedding colors, who am I going to invite to the wedding…….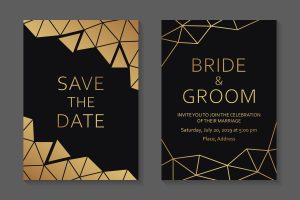 Don't miss one important detail, sending out a save the date invitation to your guests.
You have time to plan your wedding, make sure your guests have plenty of time to plan ahead and get your special day on their busy calenders.
Here are a few questions that frequently come up regarding save the dates:
When should save the dates be sent out?
Save the dates are usually sent out 6-8 months before your wedding date. This will give everyone plenty of time to get travel arrangements made and prepare to attend your wedding. Every wedding is different and some brides may decide they need to allow more time. As soon as you have a date picked out you can start letting guests know and plan for your special day.
What information should I include on my save the date?
Title: Save the Date
Bride & Grooms Name
Date of the wedding
Location of the wedding (this can be the city, you don't have to give a specific venue unless you already have this information)
Wedding Website (A wedding website allows you to easily provide additional wedding information such as accommodations. It is very helpful to give your guests as much information as possible. If you have room you can also include this information on the save the date)
Formal invitation to follow (Let them know that they will receive another invitation with specific wedding details)
Different Save the Dates
Today many brides send out save the date magnets to reserve their special day. Brides also mail out postcards, and invitation style save the dates with envelopes. The featured Save the Date is from Carlson Craft