If you're like me, your furry friend is a big part of your family.  So of course you want to include him in one of the mo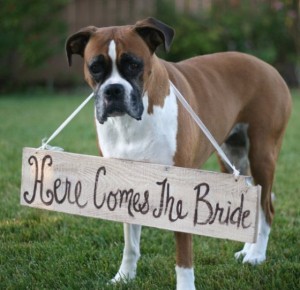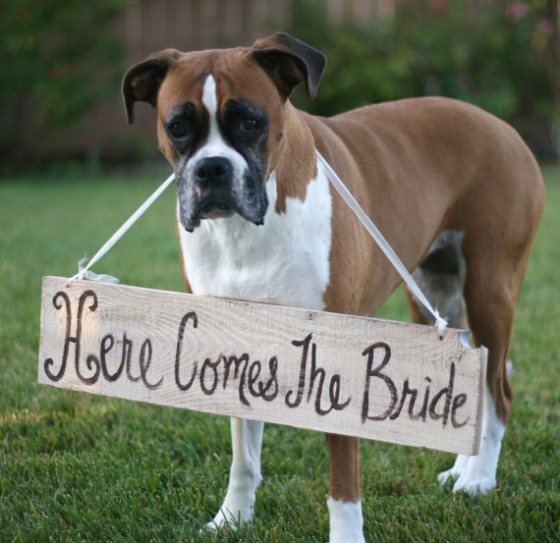 st important days of your life!
There are a few different ways to include your four legged companion in your nuptials.  You may want your pouch to participate in the actual ceremony as the official flower girl or ring bearer.  Depending on the temperament and training of the dog, it may be best to have them be a "guest" at the wedding.  Regardless of the role, make sure to have a capable dog handler at the wedding.  It can be a trusted person or a professional dog walker. While you would love to have your pet be right next to you at the wedding, you will be very busy and need to make sure someone will be able to take care of them as needed.  Of course, it depends on the dog.  Some dogs are well trained while others…are not!
Here are some considerations when deciding to include your pet.
Check to make sure pets are allowed at your wedding site or if they have a no pet clause
Consider their age, temperament and personality.  Is your dog people friendly?  Your dog will be in a   strange environment with lots of different people.  If you dogs tends to get overwhelmed in this type of environment, it might be best to leave them at home.
Does your do run off the minute you turn your head?  If your pet loves to run off and chase anything, it may be best to reconsider their participation.  The last thing you need to do is look for a lost pet on your wedding day.
Find out if any guests are allergic to dogs.  Also check that your vendors have no allergies.  You definitely don't want is a sneezing officiant during your vows!
Take them on a practice or trial run.  If you want them to walk down the aisle and then sit for an extending period of time, it is best to practice as much as possible ahead of time.  Take them to the actual ceremony spot and run through the motions rewarding their good behavior with treats.  This will help ensure a great performance when the spotlights on them.
Once you have decided Fido's role in the wedding, make sure to find the perfect outfit!  From pillows to custom outfits, there is no limit to what your pet can wear on this special day.
Finally, if you do decide to leave your pet at home but still want to include them in your wedding excitement, talk to your photographer in including them in your engagement photo session or on your Save The Dates.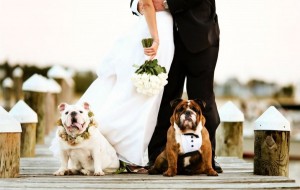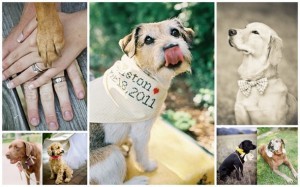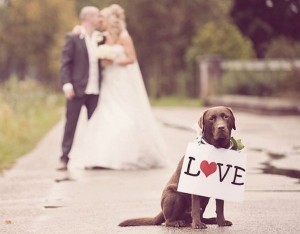 (photos credit; bridal guide, engaged & Inspired, wedding elation)