Your wedding is a chance to showcase your relationship. All of the tiny details represent your the two of you and your one of a kind love. Why not have a drink or two do the same?
Many Brides and Grooms wrestle with the idea of having hard alcohol at the reception. Should you choose to go that route a nice way to keep it simple is to only offer one or two signature cocktails.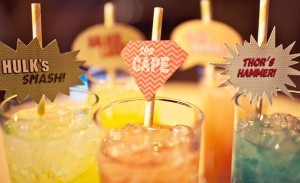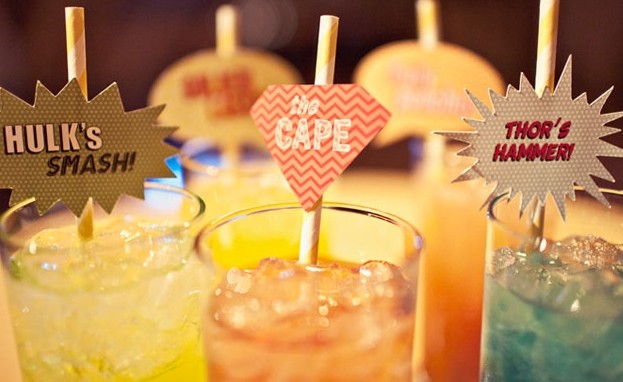 Often after the ceremony there is a break before the reception. This is typically when the bridal party takes pictures. The bride and groom may also take a few moments to be together in a calmer setting.
Many couples fill this time for their guests with a "cocktail hour". If you choose to have a signature cocktail this is a good opportunity to serve it and then for the rest of the night stick to serving beer and wine.
What makes a cocktail a "signature cocktail"? It is a cocktail that you make your own. Maybe it is what she always orders no matter where you go for drinks. Maybe it is a drink you both tried for the first time early in your relationship, or a theme of the wedding, or an aspect of your relationship. For example if you went to London and drank Pimms the entire time perhaps your signature cocktail could be a Pimms cocktail. Perhaps On your first date you had Mint Juleps at a Kentucky Derby party. The possibilities are endless. Personally I think it is more fun to have a drink that signifies a part of your relationship.
Some people want to tie in the colors from their wedding there are many possibilities to go this route. Choosing drinks based on season is also a nice touch. Are you h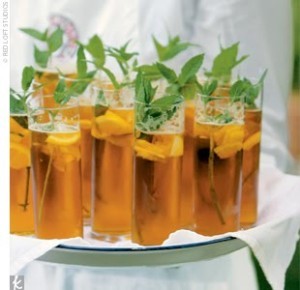 aving a Christmas or winter wedding maybe hot chocolate with Baileys and whipped cream, or hot toddies. If you are having a spring or summer wedding maybe Mojitos or Margaritas.
Some couples like to do his and hers drinks. He likes dirty vodka martinis, and she like whiskey sours. So have both maybe make up fun cocktail napkins with his and hers on them to accompany the drink.
Signature drinks go beyond just cocktails. You can go with a beer or wine option also. Perhaps he likes to drink snake bites (Guiness and hard cider layered on top of each other in a beer glass). Maybe she likes Champagne cocktails. There are many options out there. Another twist on his and hers drinks could be drinks from the areas that you each grew up or went to college.
No matter what your tastes or wants for a signature cocktail for your wedding reception there are many possibilities out there. I would recommend going to a liquor store that is recommended by Northern Colorado Wedding and Event Professionals and ask the event planner for some ideas.