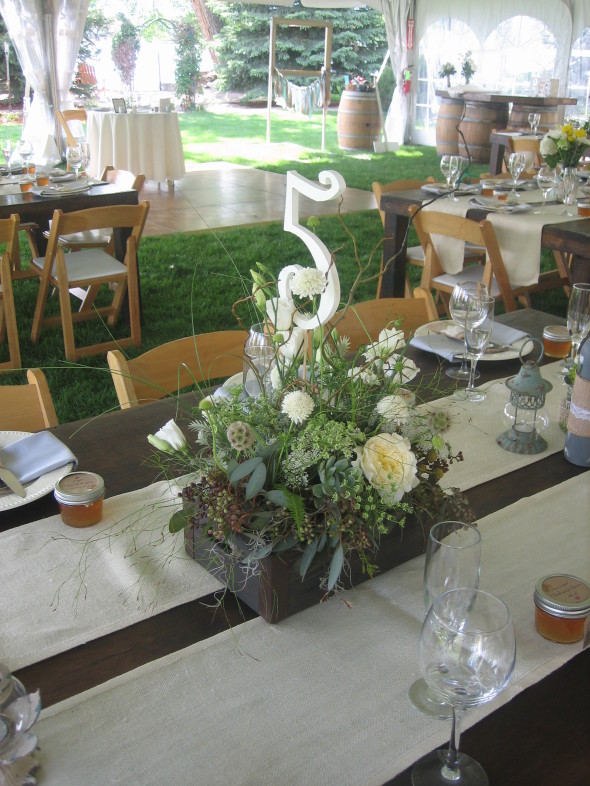 Simple is beautiful, especially for backyard wedding receptions. With nature as your colorful backdrop, it's the elegant accents and little extra creative touches that help set an intimate, yet welcoming, vibe.
To transform your backyard reception into an experience with a vintage and/or rustic feel, there are lots of ideas that can be modified and enhanced with the right choice of flowers.
Here are some tips to get you started with brainstorming ideas:
Decide on a Texture: Do you like woods, fabrics, textiles? What colors and types? How do you want to use a particular material as a theme in your wedding decorations? Once you decide the details, it's simple to incorporate a floral accent to add a pop of color and natural, earthy styling.
Choose a Table Style: Dining tables are the foundation for your creative canvas. Napa tables are easy to dress up or down, look great with a variety of vases in different shapes and styles and can accommodate a lot of guests in a small space. Use a colorful banner draped across the back of chairs for extra decorative flair.
Wine bars are another furniture option, allowing guests to have a place to chat and drink without having to sit at the dinner table before the food is ready. Vintage wooden barrels are also a fun accent that can serve double duty as dessert tables with colorful, simple floral arrangements.
Embrace Candle Light: Lights make a big difference in the mood for a wedding reception. Using LED lights or strings, a soft candle in a colored votive or tall tapered candles can add color and lighting to a backyard reception in countless ways, especially when tastefully combined with simple flower arrangements.
Select a Theme for your Accents: Think of the dining table as a tablescape, and you are creating a mood for the guests to experience while they eat and chat. Branches, rocks, and other earthy greenery are natural accents that anchor in a rustic feel. You can also use wooden boxes with succulents and flowers with table numbers and other decorative items. Burlap is another useful accent and offers a background to showcase the color in flowers, or to frame small chalkboards that include important wedding details.
Napkins as Decorations: A napkin is the perfect way to add simple, extra elegance to a place setting. Using a single flower tied with twine (perhaps the same type of flower used in the bride's bouquet) pulls in the wedding theme and it's easy to do.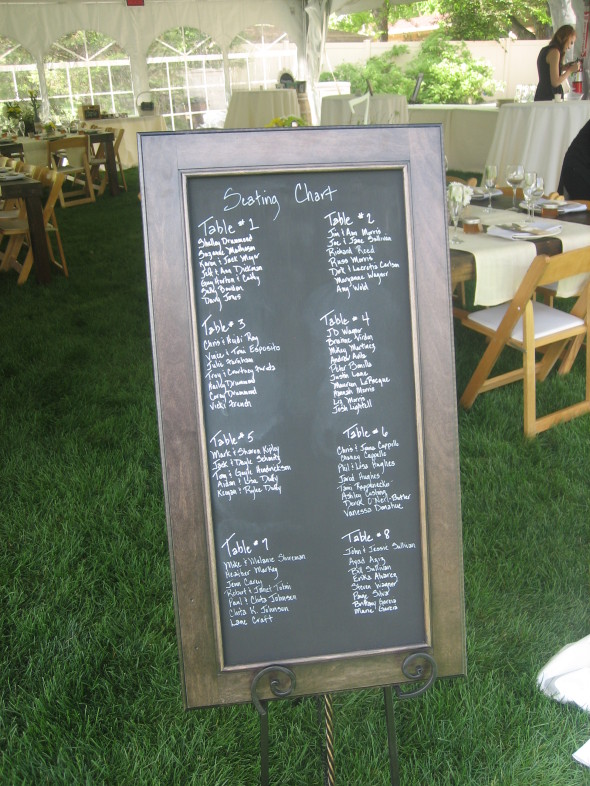 Use Flowers to Enhance the Property: Is there an aspect of the property you want to enhance? Use flower petals or flowers. For example, mark a garden gate with a trail of rose petals or place a string of flowers along a fence line.
Guest Extras: Hosting overnight guests? Why not add a little fresh sprig of lavender, rosemary or mint to their pillow? It's beautiful and offers a relaxing scent for restful sleep. A little floral accent in a small vase next to the bedside table is also a nice touch.
A Hostess Gift: If you are using a friend or family member's property for your backyard wedding reception, offer them a nice floral gift as a thank you, such as fragrant floating gardenias in a bubble bowl.
Other Helpful Tips: Consult with your wedding floral designer about the details of your dress and other wedding essentials; it can help provide important clues to your style preferences. The more detail you can share about the theme and style of the wedding, the more insight they can pull from to provide floral concepts that support your tastes and wedding theme.
Once you settle on a theme and color, a floral designer from Palmer Flowers can make recommendations based on what's in season and available to help you plan a gorgeous backyard wedding reception with style. Just remember, stay open minded in case certain flowers are unavailable, and trust that the designer can accommodate your event with similar flowers that offer the same look and feel.
So how can we help you make some decisions on floral arrangements for your backyard wedding reception?
Special thanks to RC Special Events for setting up such a beautiful space to decorate.