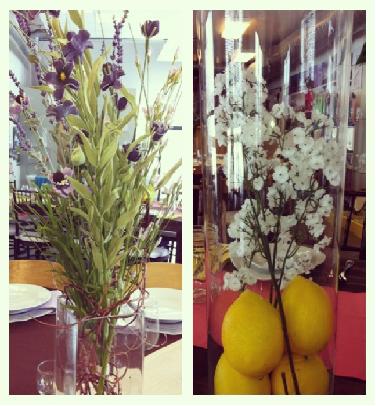 Spring is finally here! Which means an RC Special Events showroom makeover. This spring, we wanted to focus on using brighter colors and offer a little inspiration for springtime events, such as graduation and summer weddings.
Since our Napa tables are so popular in the summer, we definitely wanted to showcase them for our clients to see. Bright colors seem to be a go-to trend for many events using the Napas. We thought the melon table runners with lemon napkins offered an interesting contrast. For this Napa rendition, we chose to stick with the farm table look and use mason jars for our glassware.
Also displayed on our Napa is our newest 2013 addition, triangle plates! Here at RC we are very excited about this new style of dinnerware. Their unique and fun shape will definitely draw you in!
Continuing with our bright colors theme, we loved the idea of using a white floor length linen with a lime green overlay and navy blue napkins. As a centerpiece, we thought the square vases complemented the square chargers and held the flower bouquets perfectly. To get this look, use our white woodstyle chairs, silver square chargers, silver rim dinnerware, hammer forged flatware, and our regina stemware.
We all know that springtime means lots of flowers, after the April snowstorms of course. On this table, we used a pretty springtime flower combo and highlighted the purple flowers with our lilac napkins and burlap table runner. The unique accent on this table is the swirl charger underneath the royal white plates. The chargers and rope flatware add character to the chocolate linen. Tying in the outdoorsy spring look, we chose our natural woodstyle chairs and our stemless glassware.
Through our use of social media sites like Pinterest, we have started to notice that mint and gold have become a popular trend for 2013 weddings. So we paired our gold chiavari chairs with an ivory linen, champagne table runner, and mint napkins. Keeping the classic look of gold and ivory, we used our gold chargers and Venice Ivory dinnerware complimented by our Regina water glass, champagne flute and timeless silver chateau flatware. We feel it has a Great Gatsby-esque feel.
This table also brings back the notion of multi-purpose glassware for use as a centerpiece. We turned our oversized glassware upside down and added some flowers as a decor item underneath. Check out our previous blog regarding these options.
As for graduation, we have found that buffet style food serving is the most popular. Here in our showroom, we used a purple linen to show support for Fort Collins High School, but we have linens to support every school color in the Fort Collins area, including cardinal red, gold, and green. Whatever the colors, we can help you show school spirit at your graduation party! The skirting contributes to the buffet look, but a floor length linen can give a similar appearance.
Another important rental item for grad parties are chafers. Here at RC we offer a variety of quart sizes as well as a split pan option. We even sell sternos to make the rental a one-stop process. Here we have displayed our 9" footed bowls, canoe platter, 17" X 11" ceramic tray, our 6" square glass plates, and our triple tiered plate stand.
Whatever your springtime event is, let RC take some of the stress away from planning! Summer is just around the corner and we would love to help you get out and enjoy the warm weather or create an indoor spring/summer ambiance for your guests.