What you wear on your wedding day is more than a wedding dress, it's how you want to be seen and remembered during one of the most special moments of your life. So to help brides get their dream dress with the least amount of stress, here's what I've learned in my years of working with brides in Northern Colorado.
The easiest place to start is with the dress.You don't need to know the date, location or be at your ideal weight to start looking. What you do need to know is that some dresses take a long time to order and get into the shop, so the earlier you start looking the better.
To keep things on schedule and flowing smoothly, here's what brides really need to know:
1. Alternations are not a possibility, they are a necessity
An early start on the dress search offers the longest lead time to schedule alterations. Alterations are one of the most important, yet often overlooked, aspects of the dress search.
If you're special ordering your dress, the staff at a bridal shop will take your measurements and order you a dress closest to your size, with the idea that some element of the dress will need to be altered. During all of my years with Dora Grace, I have yet to see one dress that didn't need some alteration to work best for the bride.
Many brides also want to wait to reach their goal weight before dress shopping, and that is simply not necessary. Keep in mind that dress alterations can be scheduled for when you are closer to your desired weight.
2. Timing is critical for wedding dress shopping and alterations
When you find that perfect wedding dress or bridesmaid dress, it's hard to think of choosing anything else. That's why it's so important to order a dress as soon as you find one you like, because it could take up to five months to arrive for alterations.
In some cases the dress styles you really want may not be available later or in the timeframe you need it, while other styles might be discontinued altogether. Challenges with fabrics during the alteration process can also be an issue, especially for dresses with multiple layers. The same rules of thumb go for bridesmaids dresses – shop early, buy when you find one you like, alter as needed closer to the date.
Ideally, it's smart to begin alterations on your dress when you are at a stable weight and at least three months prior to the wedding, longer if it's a summer event. If you happen to lose more weight before the wedding, do another alteration a month and a half out. Start alterations for the bigger items like the bustle and hem first as they are not dependent on your weight, and get the form-fitting alterations done last.
Again, I can't stress enough how important it is to schedule alterations as soon as possible. A seamstress is not only altering your wedding dress but the bridesmaids dresses as well, and in the busy season, most bridal shops are booked out months in advance.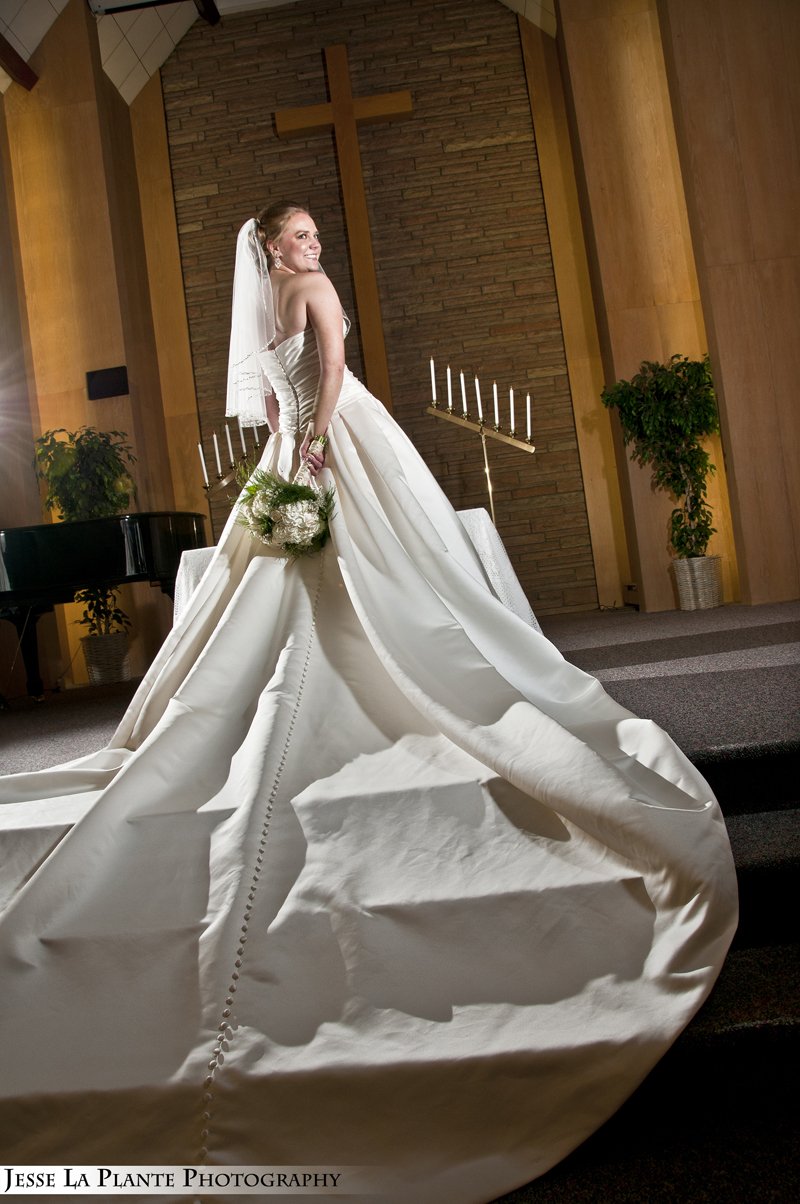 3. How to minimize alteration costs and save your sanity
The best way to save on alterations is to choose a designer that allows you to order a custom length, shorter train or a corset back. These do-it-yourself adjustment features save on the cost of alterations from the start. However, even with these elements, the wedding dress will need additional alterations to create a tighter custom fit, and is ideal for the best dress presentation.
Another helpful tip is to have the same friend or family member (1 or 2 max) come to the fitting appointments with you each time. With each different person you invite to a fitting, the more opinions you have to sift through and the more decisions you need to make. If you listen to each person and keep making changes, the alteration costs really start to add up. Plus, it takes out all of the surprise they experience when walking you down the aisle!
The best way to maintain your sanity is to work with a bridal shop that manages everything in-house. When problems arise they know your unique wedding and desires and can quickly fix problems or offer advice based on what they know you already like. At Dora Grace Bridal for example, once you come in, we know your wedding, we know YOU and are part of your wedding, and we can take care of everything in one place. Now that can really save your sanity!
Corset photo by Harper Point Photography