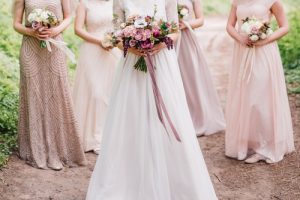 Now that you have found your perfect dream dress for your wedding, you're probably starting to look at your five best friends and wonder what the direction for their bridesmaid dresses should be. Here are a few tips we like to lay out on the table so that this process doesn't become more stressful than it needs to be!
1. Are any of your bridesmaids pregnant or TRYING to get pregnant?
I cannot stress enough about the importance of this when choosing dresses (and bridesmaids). It may not be something your maid is willing to share with the world yet, but hopefully you can have an honest conversation with her about this topic. A lot of times this surprise comes out too late into the process to account for a style that would be more flattering for a pregnant woman, or we've seen a number of times they've placed their order and become pregnant after it's too late to change sizes.
Having a pregnant bridesmaid in your wedding party requires a little more thought to your dress decisions and timing, e.g. when is she due? Is it 2 weeks before your wedding? Is it realistic to even think she can attend the wedding, let alone stand up as a bridesmaid?
Obviously it's not an impossible feat to have your preggo bestie in your wedding, it just takes a little more planning so be prepared!
2. What color will your maids be wearing?
If you're going with a standard color like black, you will have pretty much the pick of the store when it comes to style, fabric, etc. However, should you decide you want your bridesmaids dresses to match the color of your favorite purplish-reddish-orangish scarf that your great grandmother gave you we may run into some problems. While it may not be impossible to find a dress in that color, there may literally only be five dresses that come in that specific hue. Having a little flexibility with color will open up all kinds of possibilities to your maids. This is especially important if you want them all in the same color but different styles.
3. Budget at least 4 1/2 months to order your bridesmaid dresses.
I know what you're thinking. WHAAAAAA?!?! But this is a completely realistic timeline for the dresses to come in, ship them all over the country to your maids, work out any unforeseen disasters, have time for them to get alterations, and show up to your wedding on time. This means you need to start looking for dresses at least 6 months ahead of time for logistic purposes.
4. Be firm, but flexible.
If you give your bridesmaids an inch, they will take a mile. You may think you are the footloose and fancy free bride, but at the end of the day, how do you want your pictures to look? Do you want your maids to look like they actually belong in a coordinated group? Are you fine if 3 get the same style and the other 2 are completely different since you told them to pick whatever style they want? Do those different shades of purple reeeeally go together? Having defined boundaries is often more helpful than hurtful when it comes to bridesmaids.
We could go on and on about creating the perfect bridesmaid shopping experience. The one big takeaway is to plan ahead, be open and honest, and keep your inner bridezilla in check!
photo credit (in order): Rhema Faith Photography, Oden & Janelle Photography, W Squared Photography