When it comes to selecting a wedding dress it's about the look and feel. Do you want something elegant that's also comfortable? Are you aiming for a traditional look with a relaxed edge, or a looser, floral bohemian vibe? In 2015, wedding dress looks are a mix of polished accents and timeless style, offering brides a fun way to combine comfort and eye-catching detail.
Here are some upcoming trends for wedding dresses, bridesmaids dresses wedding jewelry and even a few insights on trending event themes to help spark your creativity during wedding planning:
Wedding Dresses: Color is one of the big changes in 2015 when it comes to the bride. Moving away from the traditional white or ivory, cooler colors like blush, champagne, grey and grey undertones, mint or blue undertones are popular choices. Fabrics are also more modern, but paired with old classic touches like lace accents or sleeves and a bit of illusion lace at the neckline. The once popular keyhole back on a wedding dress is being replaced with illusion designs like mesh with a lace overlay- also know as a "tattoo back", or as an alternative, a bit of illusion lace along the low back.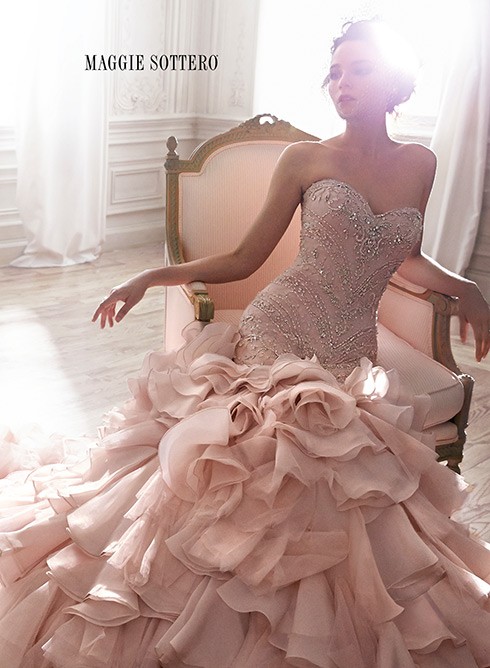 Remember, when choosing a unique back for a wedding dress to keep your hairstyle in mind. If your hair is left long and lose it will cover the detailing and a veil might cover a large portion of the artwork along the back.
Wedding Theme: For the big day brides moving more towards glam with lots of beading and sequins as decorative accents, or a more relaxed flowy hippie feel in place of last seasons' country chic.
Bridesmaids Dresses: There are also some interesting changes for trends in bridesmaids dresses in 2015. Not surprisingly colors like pale pink, blush, champagne, light mint are also popular to match the colors set by the wedding dresses, but styles are getting a bit of a facelift, too. New looks include long, floor-length chiffon paired with a bit more elaborate design elements and accents. Moving away from the popular sweetheart neckline, bridesmaids dresses are also adding cap sleeves or keyholes create a splash of interest beyond the more single layer looks popular the last few years. Other style updates for bridesmaids include halters, flutter sleeves and v-necks that offer a more 70s look and feel.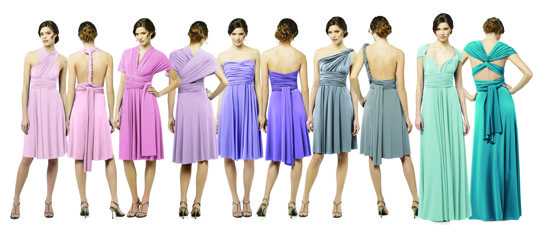 The "pick a style that works for you" type of bridesmaids dress is still popular, which allows the wedding party to mix and match textures and patterns but still find a style that flatters their unique body type. Convertible dresses are perfect for this approach to bridesmaid styling, offering more structure combined with the option to tie it up in a way that best flatters the individual. Convertible dresses are actually a great way for the bride to save a little money on the bridesmaid dress budget. Not only do you save tons of time at the fitting appointment combing through lots of styles for each bridesmaid, but the dresses are all the same price, making it easier to factor into the budget.
Bridal Jewelry Switch Up: The traditional style of bridal jewelry including diamonds and pearls are fading as a trend and being replaced by statement pieces with bolder, earthy colors like rose gold and turquoise that pop and serve as beautiful yet useful are pieces you can wear again. Adding a bit of color or accent pieces in the hair or in necklaces and bracelets, also brings in a bohemian vibe that combines beauty and function in a one-of-a-kind way.
Want to know more about how to pull together a beautiful look for your wedding? We would love to help you find the perfect design for your one-of-a-kind day.