One thing is for sure in 2013.  Whether you want your wedding hairstyles for you or your bridesmaides to be a classic up-do or flowing curly locks, braids are all the rage!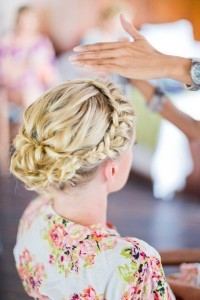 Throughout history, in all cultures and continents, you could tell a lot about people from their braids.  The Egyptians reserved hair braiding for royalty and special ceremonies such as marriage.  Native American women used braids to tell their martial status, for religious purposes, or to prepare for war.  In medieval Europe the more intricate the braiding of a women's hair, the more affluent her economical status was.
In the past, locks of hair were a very romantic keepsake that your love might have given as a gift.  It was thought that if you had a lock of someone's hair, then you held power over that person.  It was a romantic gesture to show that the person was all yours.  If you were to entwine a lock of your hair with your love's hair, it would create an inseparable bond or braid.  That braid would be stronger with your two hairs combined; Just like your marriage will be.  A braid is also a kind of rope, a life line that saves you and strengthens your bonds, keeping you together.
When you think of that historical and symbolic significance, it makes sense why the 2013 wedding hairstyles are including braids.
Another benefit to braids, is that you can tailor your hairstyle for your wedding to fit any theme you want.  There are modern looking braids, or braids that look dainty and vintage-like.  If you want your hair to be down and curly, you can still get that intricacy that you have developed in your big day, reflected in your wedding hairstyles.