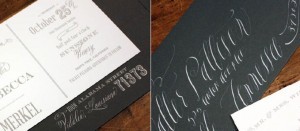 This time of year we reflect on what has happened the year before and research and prepare for the trends we hope to see in 2013.
Here are some of the trends ANTICIPATED!
Our top trends for 2013:
Chalkboard inspired wedding invitations  There are so many options from wedding invitations to menu cards. Black & White! They truly do look like a chalkboard. On this design from The Happy Envelope they incorporate a very romantic font that adds to the overall charm of the invitation.
Patterns and Prints  Graphic invitations with bold designs continue to be popular. A top trend we anticipate ~ chevron stipes.
Kraft Paper, Kraft Paper, Kraft Paper!
We love this look, especially for Colorado and rustic weddings.
Watch for kraft papers with white and neon ink colors.
Typography
Fonts that have a handwritten feel are very romantic, and don't require any additional graphics. The fonts are dramatic, they are even mixing font types and sizes.
Envelopes
This might not be a trend, but it adds so much style when the outer envelope showcases an ornate font or graphic. When you receive these special envelopes in the mail you can hardly wait to open them.
#1 Color
Mint, pepermint color schemes. We are seeing this throughout the wedding industry from brides maids dresses to wedding invitations.
Embellishments
Embellishments continue to be popular. Watch for lace, vintage invitations, neon colors, pockets, 1920s inspired invitations, foils, shimmer papers, laser cut, and garden themed invitations.