Searching for an outdoor wedding venue? Don't for get about the most convenient venue available; your backyard!  You have your mind set on a tented wedding and reception in Colorado, but sometimes it can be confusing which tent is best for your event; so RC Special Events has you covered (literally!)
 POP- UP TENT:
This tent is the smallest and most versatile tent we own!  Measuring at 10'x10', this tent is great for covering food stations, guest book and gift tables, even cake tables for your outdoor weddings.  This tent has the flexibility to be staked into the ground for a grassy event location, or we can provide weights for concrete or hard surfaces.
 CANOPY TENTS:
This tent is a step up from the pop-up tent, but convenient for customer instillation and pick up, no delivery required!!  These tents are great for smaller backyard wedding showers, rehearsal dinners, and smaller weddings.  This tent varies in size from 15'x15' to 20'x30'.  We give you all the parts and pieces, and with a couple of friends you will have a beautiful tent to shade your guests!
 Q- PEAK TENTS:
Q- Peak tents are a great solution for smaller wedding ceremonies, catering tents or an extension to one of our larger tents.  Commonly referred to as "DIA Peak Tents" these tents not only are one of the stronger tents we offer, but one of the more aesthetically pleasing tents as well.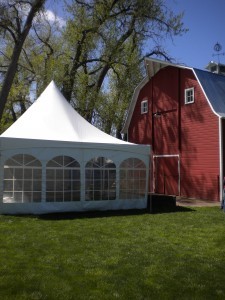 POLE TENTS:
The pole tent is a grand looking tent because it resembles that of a circus tent.  Not only does the design pair well with the Q-Peak tents because of the peaks, but it offers a clean internal canvas where the metal frame is not visible.  No fabric tent liners needed in this tent!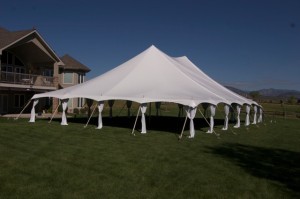 Here at RC, we carry pole tents in an assortment of sizes to help fit the size of your budget and guest count.  This type of tent is much more durable than that of the canopy tents and even has a manufacture wind rating for the larger 60'wide size. 
FRAME / NAVITRC TENTS:
Our Frame / Navitrac tents are perfect for any out door wedding or ceremony!  This tent has the ability to be staked or weighted on any surface.  Expanding in size by 10' or 20' sections this tent can be adjusted to accommodate any guest count!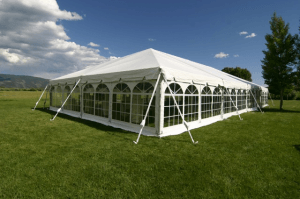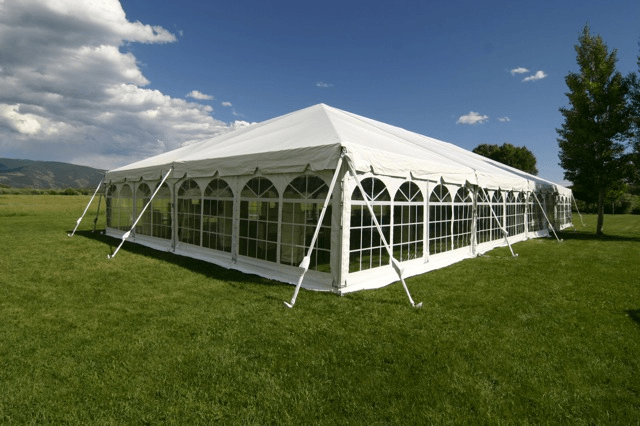 These tents are perfect for Colorado weather and the sky is the limit for décor.  Clear top canvas, side walls, fabric tent liners, intricate lighting and many more accessories will help turn this blank venue pallet into the perfect vision for your wedding.
TIDEWATER TENT:
We at RC are pleased to welcome a new tent to our 2013 inventory! 
The Tidewater tent is constructed by durable sail cloth and not only creates an open air feel but the light weight canvas offers a more translucent background for day light skies or night light glow.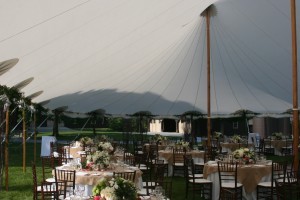 Contact your RC Special Events Tent Experts on more information on décor and sizing offered for this alluring addition. 
Weather you are having an intimate backyard wedding or a grand affair; we have just the wedding tent that will accommodate any outdoor space! 
Tents allow you to create your very own blank canvas wedding venue, so the sky is the limit!