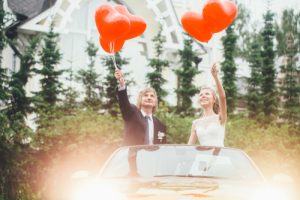 Happy Wedding Year to all the 2013 brides!!
Now that we have officially rung in the New Year, it's time to look at what we are expecting the wedding trends to be for 2013. Here are the top predictions you can anticipate seeing.
Rustic weddings take on a new look.
In the past few years rustic weddings have been all the rage. While they will still be a top trend in 2013, the rustic look will have more of a vintage, sophisticated vibe. Burlap linens will be replaced with beautiful farm tables. Mason jars will be filled with elegant flowers instead of simple votive candles.
Vintage Lounge areas
Vintage reception lounge area will give your guests a beautiful place to take a break. It offers an away from the dance floor area for guests to eat, drink and mingle in a relaxed setting. From a groom's perspective, the lounge is a perfect spot to feature a favorite microbrew, signature cocktail or finger food. If you're planning to include a photo booth, any yard or table games or a build-your-own drink station – the lounge is the place to do it!
Beautiful Big Florals
Soft, elegant and romantic florals will make a big splash in 2013, moving away from the more informal "weedy" look of the past few years. Think of lush peonies and garden roses in beautiful colors, flowers that feel opulent but still very fresh. These flowers make a big impact while setting the tone of the wedding. Go for bright pinks and yellow for a more fun appeal, or soft whites, creams and pale pinks for a beautiful vintage elegant feel.
Lace, Lace and More Lace
Lace wedding dresses will still be hot in 2013. These lace dresses will incorporate interesting neck lines and sexy low backs. Lace will range from small lace details to full lace dresses!
Dessert Bar
Candy buffets have been replaced by fun dessert bars and this trend will continue in 2013. Instead of just giving your guest's cakes, let them choose from mini tarts, cotton candy, cake pops, petit fours, and other delicious options.
Food Trucks
Food trucks have been increasing in popularity all over the country in recent years, and now we're starting to see them take over weddings too! With endless options(including some really amazing gourmet food), food trucks are a great way to make your big day stand out and give your guests a choice when it comes to what they're eating.