I feel it is always a nice touch to provide your Wedding Guests with a Wedding Welcome Bag, either placed in their sleeping rooms upon their arrival or picked up at the Front Desk when they check in to the Hotel.  Some great ideas that I love are:
Wedding Totes, because not only are they super adorable, but practical.  Your guests can reuse it repeatedly and Your Special Day will always be a constant memory.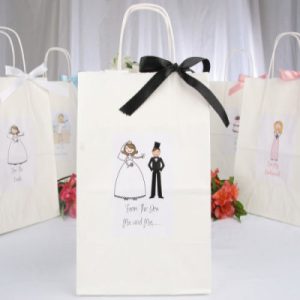 I love when the Bride and Groom adds some local flair to their Welcome Bags.  Every city has something unique that makes it special and including this will leave your guests with a lasting memory and taste which will always remind them of You!
Some great ideas for my local city Fort Collins are:
New Belgium Beer—the Headquarters is based here and so why not greet your guests with something to celebrate with…cheers!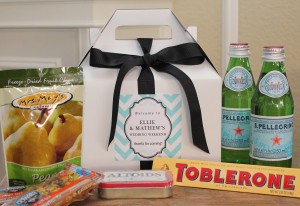 Local Coffee—who doesn't like a fresh cup of local coffee!
Water—This is necessary for Fort Collins, as the altitude, can be hard for those who are out of town.  I would suggest making a label for the water bottle that will explain what Altitude Sickness is and How to Avoid this!
Ibuprofen—Just in case you celebrate a little too much.
Food Goodies—Here in Fort Collins, we are all about supporting local, so finding goodies is quite easy.  A couple of my favorites though are:
Horsetooth Hot Sauce—so many varieties to choose from and the bottles are the perfect size for your tote bag.
Boulder Chips—They are so crunchy and delicious!
Map of the Local Area and some Fun Activities for all—Guests like guidance and Ideas so provide them with both!
Finally, add a little bit of Your Personality!  If you and your love enjoy running, include a map of the local running trails or share your favorite song song to run to.  If you like to bake, include a measuring cup with a note stating—"thank you for being a key ingredient on our Wedding Day."