Every wedding is a unique event and will require specific stationery to meet the events needs.  Here is a list of the different pieces that can be included with your wedding invitations, and when you should use them. The featured invitation collection is from The Happy Envelope.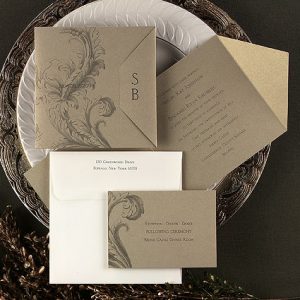 Engagement Announcements– an engagement announcement is sent out announcing a bride and grooms engagement.  They are usually sent out in conjunction with an engagement party for the bride and groom.
Save the Date– As soon as a date has been set, the bride and groom can send out a save the date.  You want to make sure your special day gets added to everyone's calendar
Invitation-The wedding invitation includes the bride and grooms name, parents and family and the location of the wedding ceremony.  If the wedding ceremony and reception are at the same location, you can add the reception information at the bottom of the invitation.
Response Card
Response cards should be sent with a pre-addressed and pre-stamped envelope.  The guest indicates if they will or will not be able to attend the wedding.
Reception Card
Reception cards are important if the receptions location differs from the location of the wedding.  It allows the bride and groom to provide the address and details about the reception.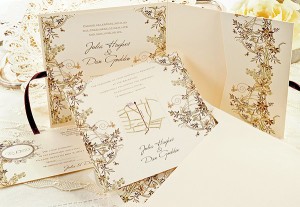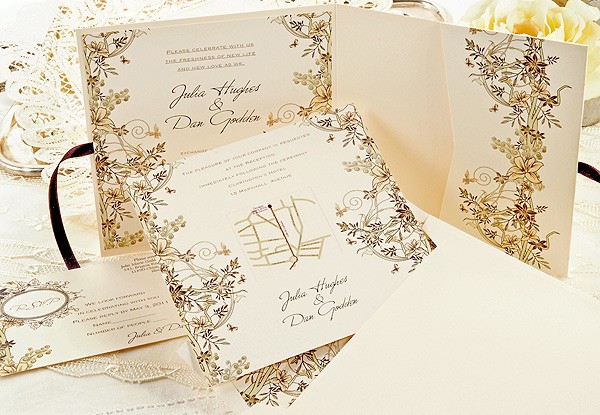 Accommodation Card
Accommodation information is important to include if you have guests coming from out of state.  Many times brides will reserve a block of rooms at specific hotels so guests and family can stay at the same location.
Map/Directions Card(s)
written driving directions or physical maps help guests get to and from the wedding and the reception.  It is also helpful to include a phone number of the venue.
Additional Information
There are other details a bride may want to include such as a wedding website.  Many times we will combine the accommodation and website information onto one card
Thank You Notes
Thank you notes can be ordered to match your wedding invitations.  Guests will start sending gifts before the wedding date. It is helpful to be prepared with the thank you notes so no guest and their gift is forgotten.