Steering away from serving a solo tiered wedding cake for dessert has become popular in recent years. The wedding cake itself is enveloped in tradition, but many couples opt to express their individuality in offering alternative sweets. A small, elegant cake for the anticipated cutting ceremony finds itself surrounded by a colorful array of unique and whimsical desserts that offer the guests not only a tempting feast for the eyes, but a rainbow of flavors on the palate.
When designing a wedding dessert menu/display, think about ways to incorporate the desserts you love, while having a good balance of flavors, texture and color.  Plan on 3-4 mini desserts if cake is not served, with only 2-3 more options in addition to that (5-6 varieties total).  Even if a small cake is served, this is a good guideline for planning quantities to supplement the cake servings.  Take the season into consideration.  Summertime is perfect for desserts with fresh berries, passed mini ice cream bars or milkshakes with colorful straws.  Winter chill provides a good back drop for treats with rich, warming flavors like chocolate truffles, gingerbread macaroons or caramel apple tarts.  Having a nice balance and variety of flavors will make your display even more intriguing for the guests.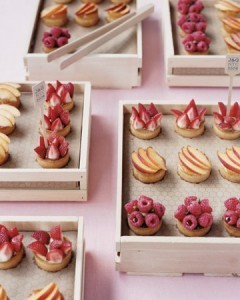 Keep your desserts in synch with the theme/feel of your event (rustic, garden party, bohemian, black tie.)   For more casual affairs, "retro" desserts are hot on the scene, from mini pies and homey cookies that evoke memories of childhood to desserts in a jar:  layered shortcakes, puddings and other desserts that look colorful and are easy to eat with a miniature spoon from a tiny mason jar.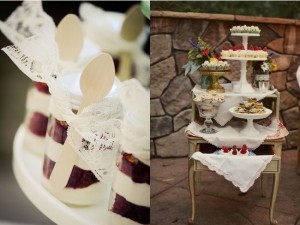 Donut or cookie "cakes" are also fun and whimsical, and can suit the theme of a morning ceremony or late nite "cookie and milk shot" treat for the guests.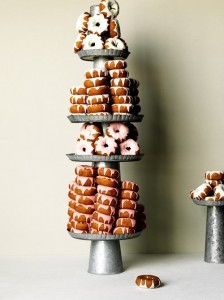 For more formal presentations, consider a tower of colorful French macarons and trays of petit fours.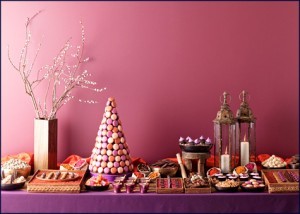 If you don't want to forgo the cake, think about presenting it in different forms. Mini cupcakes, cake pops and cake shots are all twists on the traditional slice of cake and can take on any look you desire to fit with the color scheme and feel of your event.  These are all easy to serve and can be presented in a multitude of flavors to give your guests variety.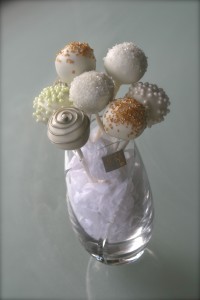 Another easy way to add color and fun is with candy.  Apothecary jars, vases or vintage bowls  filled with bulk candies to fit the color scheme add a wonderful visual element to the dessert table (and kids love it!)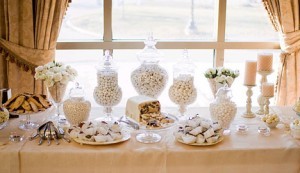 Cake or no cake, offering a visually intriguing and palate-pleasing sweet ending for your wedding guests allows you to put a little more of your own personality into the day, while giving everyone something to smile about.