It was a BUSY summer at American Girl Baking Co., and now with the shift to Fall it is a nice time to reflect on some of the favorite creations from peak wedding season.
FABRIC-INSPIRED SOPHISTICATION: This cake was a joy to create! White Velvet and Dark Chocolate tiers filled with Cream Cheese and Raspberry were decorated in classic Cornelli Lace, Dotted Swiss and Quilted Patterns reminiscent of decorative tapestries. Vanilla Swiss Meringue Buttercream was the perfect medium for delicate details and a sleek, rich finish.
Sugar pearls, red satin ribbon and a shimmery cake topper polished off the presentation.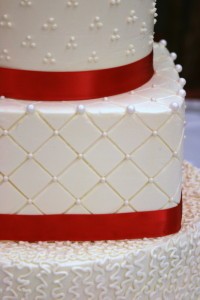 PRETTY IN PINK: This wedding was a fairy tale of flowers and sparkle in every shade of pink–just stunning!! For the cake, nothing could have been more perfect than strawberry-infused Pink Velvet layers and Cream Cheese filling. Vanilla Buttercream Fondant provided a satin-smooth finish kissed with pink sugar pearls and a feminine fondant bow.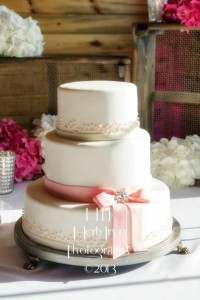 CLASSIC ELEGANCE: Sometimes "simple" is the most stunning, as is the case with this three-tiered ivory beauty. Hiding behind that quiet exterior was a celebration of flavors: Chocolate Cake with Peanut Butter Mousse, White Velvet Cake with Mocha and Gluten-Free Lemon Lush–filled with tart, creamy Lemon Curd (a Carrot Cake was lurking behind the scenes, too!) Gorgeous roses and champagne ribbon were the perfect accoutrements.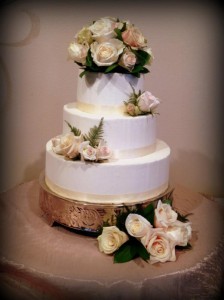 TRAVEL-INSPIRED: Don and Pete, together 17 years, celebrated a historic moment on Pawley's Island off the Seattle coast, as they were finally able to legally wed in the state they call home! Over the years, they have traveled the globe, and their cake reflected some of their favorite places on earth: Lavender buds for Provence, exotic orchids for Hawaii and baby sunflowers for Tuscany. The Dark Chocolate and White Velvet tiers were stuffed with Dark and White Chocolate Whipped Ganache, along with the freshest blackberries and raspberries the Northwest had to offer. The beautiful chocolate heart was brought back from an exquisite chocolatier on an engagement trip to Antibes. What better cake stand than a vintage suitcase from a local antique market!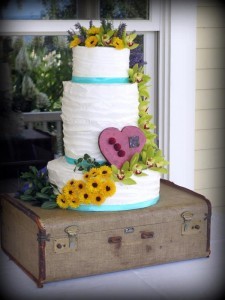 FLIRTING WITH FALL: Not yet the Autumn Equinox, this September wedding savored the last bit of summer amidst the CO flood of 2013–it was as if the skies opened just long enough for this special celebration! Fall flavors of Pear Cake and Blackberry Preserves were wrapped up in sleek-textured Almond Swiss Meringue Buttercream. The custom bride and groom cake topper and billy ball flowers were so much fun, as was the whimsical display of beloved treats from around the world. More on dessert tables in Part 2….